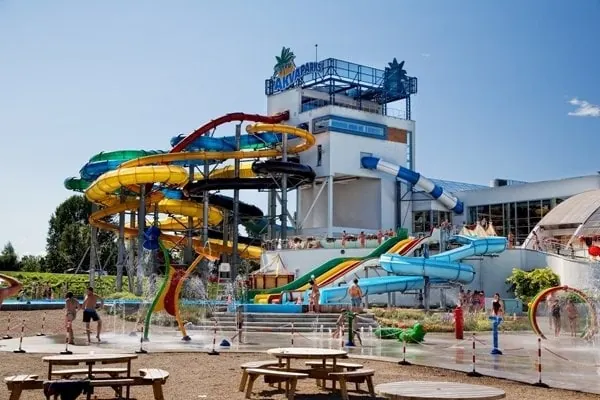 Just a half an hour drive from Riga centre and you are in one of the biggest aquaparks in the Baltics - Līvu Aquapark, an exciting place for adventure for children and adults. Try various tubes, swim in the pool, relax in the saunas or taste distinctive drinks in the pool bar. Enjoy the never-ending summer! Bring your bathing suit and jump into the wettest adventure!
Would like to sweep down the red tube slide? Or fly down the orange flume like a tornado? See thunderstorm in the black tube? Or maybe you prefer a lazy swim in the pool or wish to try raging waves? Līvu Aquapark with its unique attractions is the right leisure place for children and adults.
Sweep down through the "Tornado" tube and fall into the huge funnel at a frantic speed! "Tornado" is the Europe's biggest and the world's third biggest attraction of its kind!
This is also the place where Latvian cosmonauts are prepared for their first intercontinental flights!
In the yellow tube the midday sun shines all the time and laughter never stops. The tube slide has enough space for three people as in the green tube.
The brown "Farm Frites" flume will take you to the silver mine. Blue tube has endless springboards, but in Red tube, the speed reaches 60 kilometres per hour! In total, twenty tube slides, a fountain island, running river, pools, etc. at the aquapark area.
When you have enjoyed the flumes enough, try swimming the waves in the Wave swimming pool, surrounded by sunny beach. Every 25 minutes you'll experience real wind with 1.5 meter high waves here. Kids can try some still pools - "Mama's", "Papa's" and "Kolibri" pools are less than 90 centimentres deep. In addition, an outdoor pool is open here all year through.
Enjoy idly relaxation in the Water bar, where the bartender will serve you stunning cocktails you can enjoy at the bar or in the whirlpool bath.
At last, feel the heat in four saunas - two Turkish saunas with the aroma of menthol and lemon, a dry sauna and humid sauna.
You can reach the Līvu Aquapark by car, taxi or train; more information is available at www.akvaparks.lv. You can also rent a swimming-suit, slippers or a towel here, in case you've forgotten to take anything.