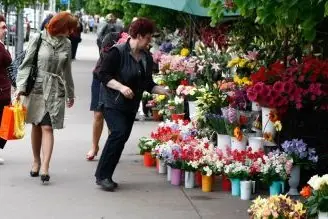 If you want to find Saktas Flower Market, trust your nose. Take the very beginning of Brīvības Street and turn first right (Tērbatas Street). Here your nose will smell a scent of pastries, followed by a flow of flowers. Every day the rainbow-coloured flower market right next to Vērmanes Garden Park delights passers-by and bewilders customers not knowing where to stop and what to buy.
"Fresh roses!" repeats one of the vendors. "Fresh roses!" echoes another one. The queen of all flowers, set by colours in deep vases, smells sweet, fascinating customers. "Here we are!" snow-white, violet, yellow and red tulips remind one of spring at any period of the year. It's so difficult to make a choice! A bunch costs five Lats but you can get it also for four by bargaining.
Saktas Flower Market is the place where residents and visitors to the city will always find flowers from 8 am to 11 pm. Surprise someone on a birthday or some other important day, buy a beautiful flower and present it to your beloved, and then have a romantic walk in Vērmanes Garden Park.