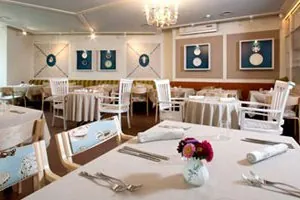 The abundant choice of fish and seafood dishes is the main reason to visit the Mediterranean restaurant "Riviera". The restaurant menu offers classic seafood dishes typical of the Mediterranean region.
The menu offers a vast choice of brook trout, pike perch, grilled catfish, mahi-mahi, halibut and other gourmet dishes. If you wish to taste samples of different dishes, you can choose a seafood platter including tiger shrimp, scallops, squid and other delicacies.
The restaurant also has a wide selection of meat dishes. Steaks, lamb, duck and veal is cooked on a wood-burning grill. For instance, a juicy and fragrant steak is served with grilled vegetables and Bordelaise, a French meat sauce. Here you can also try other typical Mediterranean dishes – a variety of soups, olives, Parma ham and other delicacies.
The meal can be complemented by a good wine. The restaurant wine list features more than 250 Mediterranean and new world wines.
The restaurant interior is worth recognition. The rooms are light, the furniture and wine cupboards are white and the walls are decorated with pebble collages creating a true Mediterranean atmosphere.
The restaurant "Riviera" is located in a 15 minutes walking distance from the Freedom Monument, on the corner of Dzirnavu and Antonijas streets.
A walk in this district of Riga will be a pleasant experience for architecture lovers, as this area has the best collection of Riga's Art Nouveau heritage.