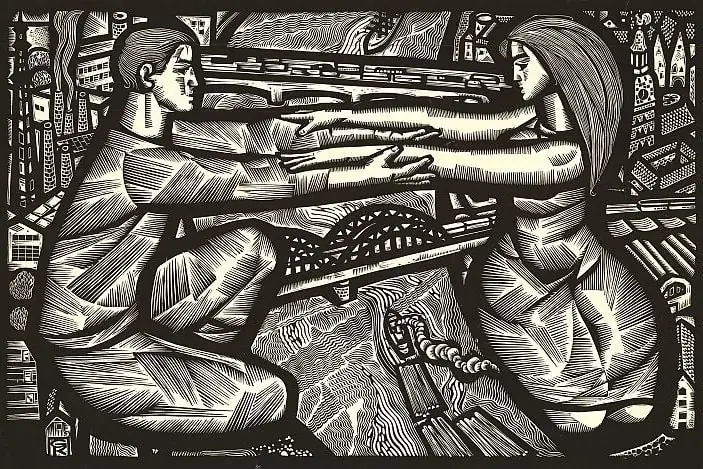 Gunārs Krollis. Bridges. From the series My Riga. 1967. Linocut print on paper. LNMA collection. Scanned image
Gunārs Krollis is one of the most notable masters of printmaking of the late 20th century in Latvia, whose works first and foremost bring to mind perfectly refined form of artistic expression in dealing with moral-aesthetic subjects that are relevant to the entire society.
The exhibition includes Gunārs Krollis' popular mid-1960s cycles of linocuts My Riga and Drivers of the Pļaviņas HEPP, where the interpretation of the city's history, inter-generation relationships and the subject of work reaches an outstanding level of generalisation and heroization. Meanwhile the triptychs of etchings Reflections of Japan and Vienna Diary from the 1970s-80s reveal a more poetic and nuanced representation of historical themes and characters. Large-format Indian ink and graphite drawings from recent years have also been selected for the exposition. The experiences in Central Asia, Japan, Jordan, Syria, Lebanon have left a strong impression on the artist, creating a lasting interest and desire to view events of the ancient past in connection with current processes.