Foodie getaway to Vidzeme
While Riga is great for dining out and having slow meals, the summertime is fit to discover what's outside of the capital. Head to Vidzeme, the North East of Latvia, where the medieval beauty Cēsis and the vibrant Valmiera resides. Located by the picturesque Gauja River and surrounded by lush forests and meadows covered in blankets of wildflowers, the abundant nature gives aplenty to put on a table, hence little surprise that both of the cities boast many of Latvia's best restaurants. Here we made a tasty list for your next trip to Vidzeme!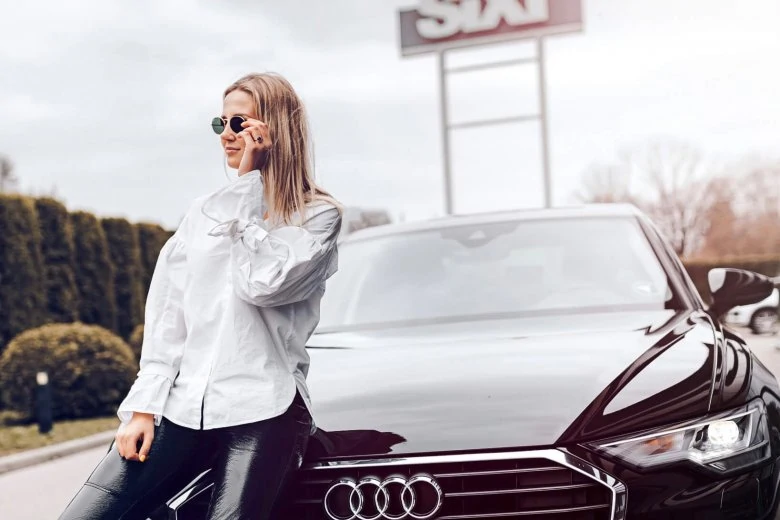 Travel through Vidzeme with SIXT auto
Don't have your own car? Choose a SIXT rental car! Over 400 types of vehicles to choose from, including BMW, Audi, Mercedes Benz, VW, Toyota, Nissan, Ford, as well as environmentally friendly electric cars - all in various price categories, colors and sizes. Take the whole family or a group of friends, as Sixt also has mini-buses available for rent. Reserve a rental car via the Sixt website, through its mobile app or at one of the Sixt rental points - Riga Airport, or at Radisson Hotel BLU Latvija. Prepare your taste buds for an unforgettable trip, and allow Sixt to take care of a comfortable journey!
Address:

Elizabetes iela 55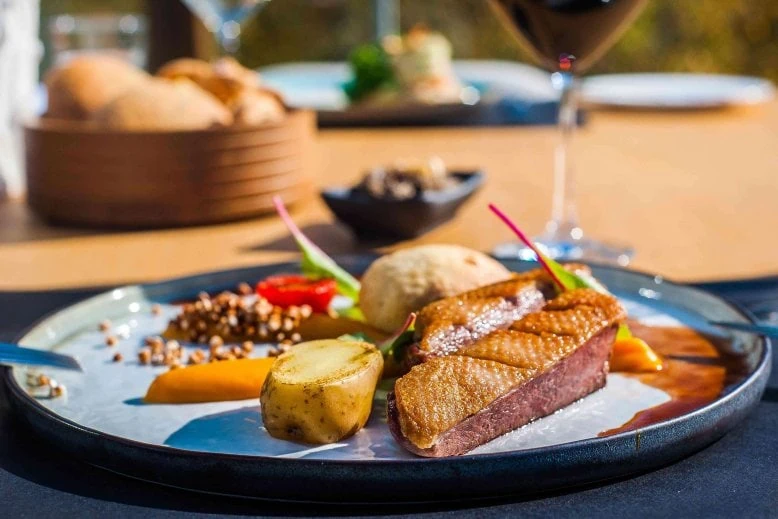 Jonathan SPA Estate restaurant
There's no other place in Latvia akin to Amatciems. Well-coifed estates of imposing countryside villas hugged by wide arcs of meadows and ponds. This is where the five-star countryside hotel Jonathan Spa Estate resides. Rustic elegance meets high quality not only in the comfortable suits but also on dinner plates. The menu features such classics as slow-cooked duck breast and beef tenderloin steak, which are conjured up using ecologically grown and locally produced ingredients. The restaurant also takes good care of vegans, vegetarians and those opting for healthier options, but still wanting to be spoilt. Chia-seed pudding with blackcurrant sauce and crushed walnuts, anyone? Less than 2 hours from Riga and 15 minutes till Cēsis, this is a perfect spot to end your tour around Vidzeme, because if you visit it at the beginning, chances are you will not want to leave.
Address:

Ezerputni, Amatciems, Drabešu pagasts, Amatas novads

Tel.:

+371 25606066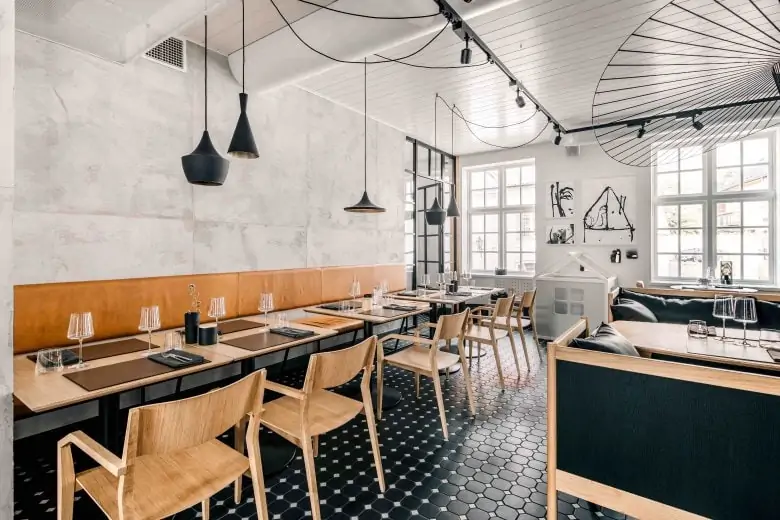 H.E. Vanadziņš. Northern restaurant
When your phone is already full with pictures of the charming wooden dwelling that are peppered around Cēsis, settle in for a dinner at one of them. The red wooden abode with embroidered white window frames is home to H.E. Vanadziņš. Northern restaurant. The clue is in the name: the restaurant serves dishes inspired by Northern Europe, including Latvia. Scandinavian herring fillet salad, pearl barley blood sausage, baked sturgeon, grilled Lapland cheese, you name it! The Northern spirit is also maintained in the minimalist interior, which is dominated by a muted colour palette of whites and greys and wooden details. Overall the place has a warm feel that invites to while away the hours with friends, sharing one of their amazing flatbreads or the opulent Northern snack plate. And if it gets too late, there are seven hotel rooms for a comfy overnight stay.
Address:

Rīgas iela 14-18, Cēsis

Tel.:

+371 24771771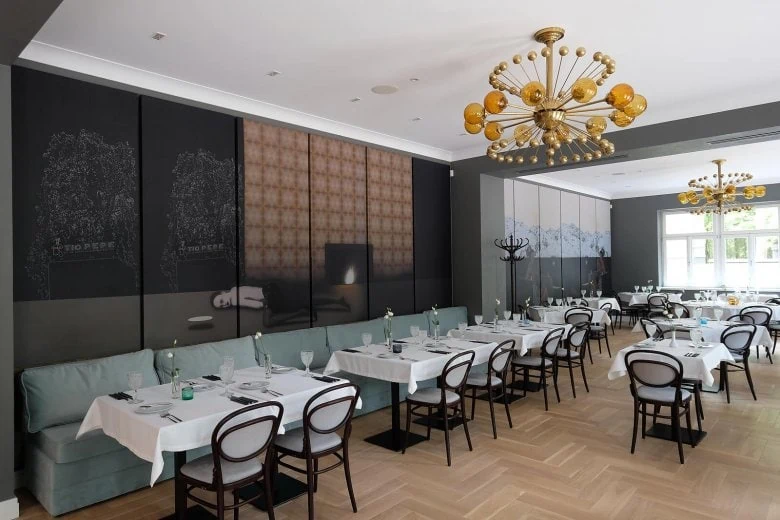 Villa Santa restaurant
If having an intimate dinner on a garden terrace with nothing but a sound of crickets on the background is more your idea of a holiday, than head 3 km right from the centre of Cēsis, to Villa Santa Hotel. Opened in summer of 2017, the hotel complex consists of three perfectly preserved 19th-century wooden villas, hugged by a lush apple garden. The restaurant is housed in the main building, Villa Santa, named in honour of its owners, publishing house Žurnāls Santa. As in the 30 hotel rooms, here the interior is a perfect marriage of ancient and modern. Who needs TV screens, when you got such vibrant paintings as the artworks of the talented Latvian artist Ieva Iltnere, and a captivating golden chandelier hanging above your head? The menu is modern Mediterranean cuisine with a riff of Latvian traditional food. Indulge your sweet tooth with homemade sorbet or restaurant's bestseller, floating islands, that for many Latvians bring back memories of childhood. Moreover, the effusive service truly makes you feel like visiting an old friend. Superb hospitality!
Address:

Gaujas iela 88, Cēsīs

Tel.:

+371 64161049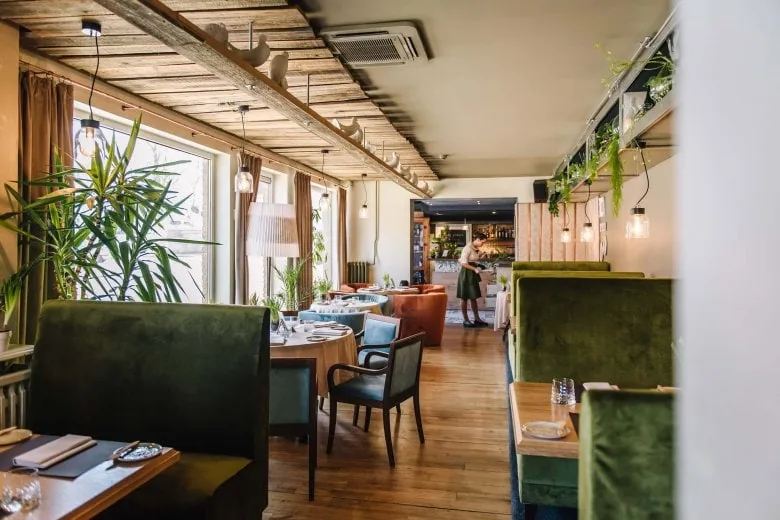 Rātes vārti
Probably everyone has experienced a situation when travelling in a larger group, a quarrel emerges about where to eat. Luckily there are places like the restaurant Rātes Vārti (Town Hall Gates) in Valmiera that caters for every taste. Porcini mushroom risotto, light seafood dishes and hearty beef burgers – whatever floats your boat! For something authentic, try Valmiera salads. During the warm season, the restaurant boasts capacious garden and extends the regular menu with a long list of grilled dishes, which goes perfectly together with a chilled glass of white – the restaurant specializes in Italian wines. Rātes Vārti is located in the heart of Valmiera, just steps away from the Town Hall.
Address:

Lācplēša iela 1 Valmiera

Tel.:

+371 26336259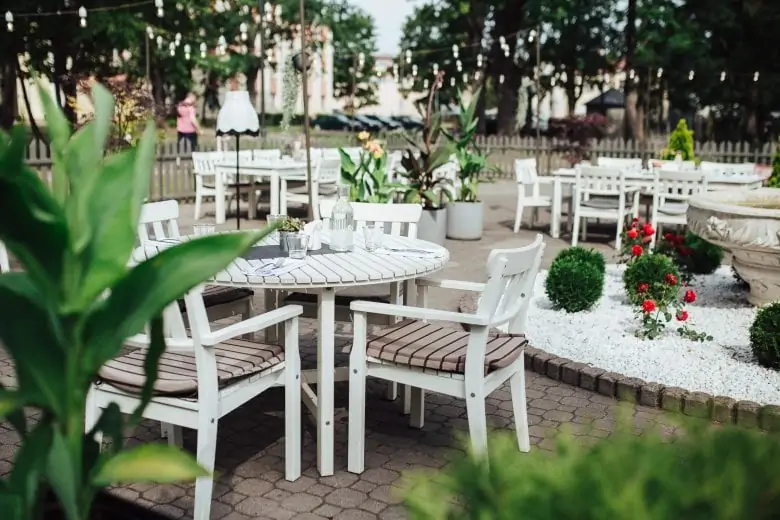 Vecpuisis
The story goes that back in 1914 eight bachelors gathered their savings and bought land, determined to make it into the cultural heart of the city. A century later and the place, now harbouring a park, concert hall and a restaurant, is one of the favourite spots in the city for the locals and the visitors alike. With an age-old soul, but a contemporary mindset, the restaurant Vecpuisis (Bachelor) is a place to savour local delicacies such as Lake Burtniek pikeperch and steak from Mazdzervites Farm. Expect vivid meals that appease the appetite and gives plenty of joy for the eyes. Go on a working day to mingle with locals and get a top-notch lunch offer for some really tasty prices. But do save room for the dessert: all the enticing eclairs and cakes lined in the display are made on the spot.
Address:

Leona Paegles iela 10, Valmiera

Tel.:

+371 2611 0026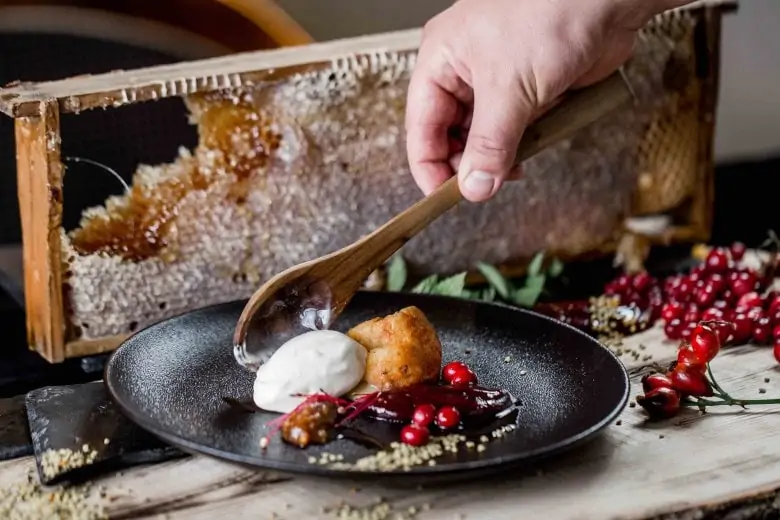 Dikļu manor restaurant
Once you set foot on the manor's ground, it momentarily comes clear why it is listed among the architectural monuments of national significance. Originally constructed in 1896, this neo-baroque architectural wonder fully embraces its heritage, retaining the original hall with fireplace, tile stoves and sweeping staircase. The sophistication also continues in the restaurant. Apples ripen in the nearby garden, a fish caught in the manor's pond or nearby lake and game meat, provided by the owner, ardent hunter, himself. The menu is a true celebration of Vidzeme's natural treasures. Each dish is dressed so stunning it befits in one of the paintings adorning the manor's walls. But don't be deterred by all the affluence, the refined dishes come easy on the pocketbook. Feel hesitant to leave this aristocratic heaven? Luckily there are 25 uniquely designed hotel rooms for bedding down.