This summer in Riga promises to be spectacular, as the city has reawakened after a time of relatively slow seasons. The city is buzzing with energy and the sun is charging even the calmest townspeople, so it's time to start getting to know the list of things to do and see in the summer in Riga. Some of the capital's most popular attractions offer an endless list of indoor activities, as well as an amazing list of outdoor activities. Here's how to fully enjoy these steamy summer days and nights.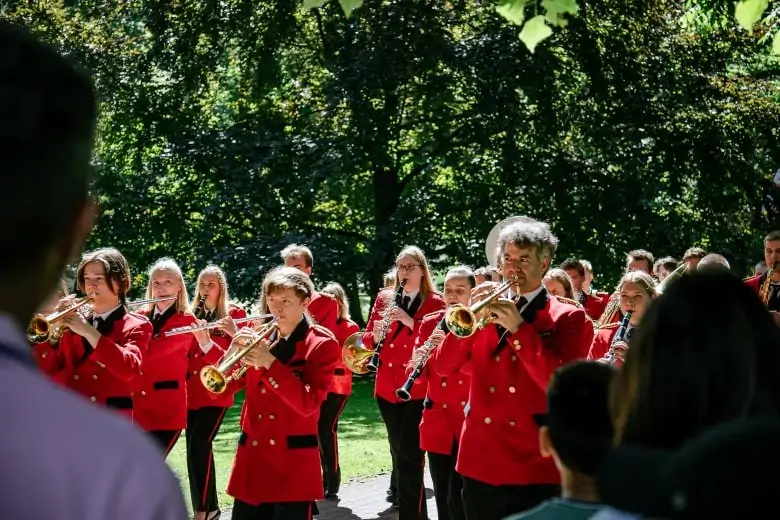 Riga Summer Culture Program
In the two months until August 28, more than 150 events are expected in the Riga's parks and neighborhoods. Residents of Riga and visitors to the city will be able to take advantage of a top-notch cultural program as well as the joy and bravery of getting back together after a long break. Every Thursday at 20:00 at Vērmanes Garden, well-known Latvian bands and musicians will delight listeners and visitors with their performances. Various activities and entertainment opportunities await visitors in other Riga parks as well. As part of the Riga summer cultural program, several Riga neighborhoods will also host events during which the visitors will enjoy various performances, shows, master classes and other activities! You can find out more about the holiday program by visiting summer.riga.lv.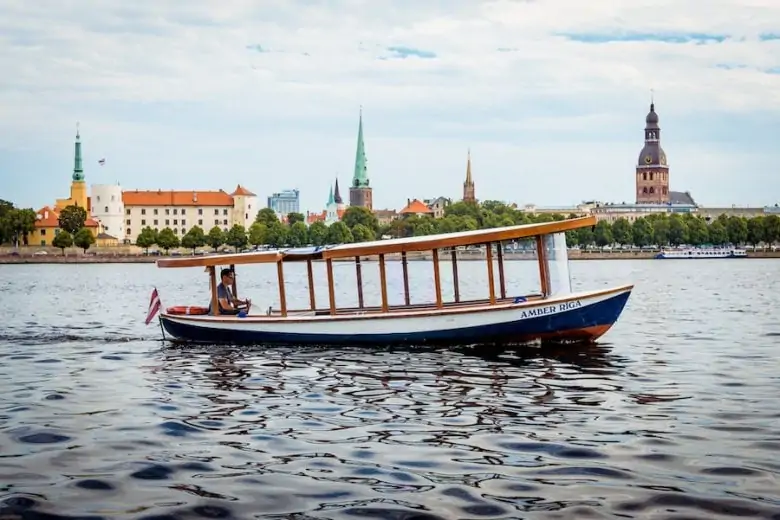 Enjoy amazing evenings in Old Riga
In the summer, the Old Town becomes a place to experience not only the unique architecture, but also diversity of its bars, restaurants and sought-after terraces. Near the Small Guild, where jazz evenings with well-known, popular, and new tunes played by talented performers are held every Thursday at 17:00, and here you will be able to capture a special ambiance, but for a romantic end to the evening, we recommend taking a cruise down the Riga Canal.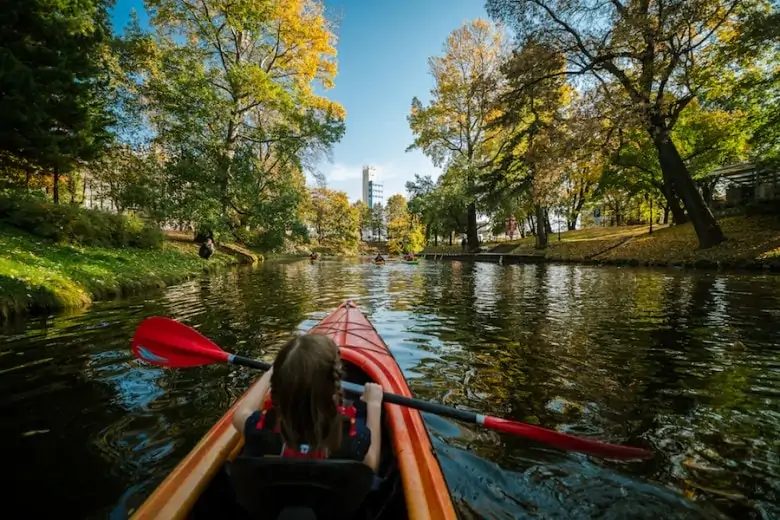 Sail away
Go to Andrejsala, rent a kayak or hop on a SUP board and experience Riga from a different point of view. Slide through the winding canals of the city center or sail the tremendous River Daugava. For more uniqueness go in the evening, to enjoy a sunset on the waters and the gleaming lights that adorn the numerous bridges looming over the canals. Rent the equipment from Rīgas Laivas.
Address:

Eksporta iela 1a, Andrejsala

Tel.:

+37126559398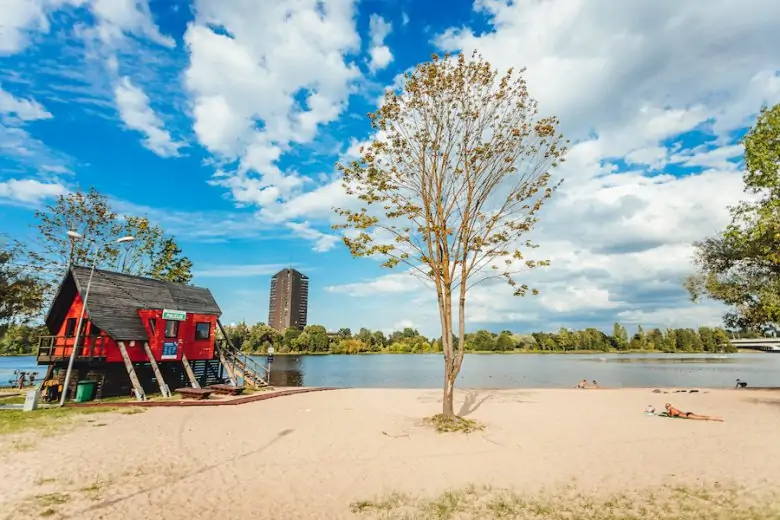 Cool off on one of the city's beaches
Although the start of the summer has been delayed, Riga is already ready for the start of the beach season! You will be able to enjoy a wonderful summer day by lounging in the sand in one of Riga's nine bathing places: Daugava bathing places "Lucavsala" and "Lucavsalas gulf", Daugava bathing place "Rumbula", Daugava bathing place "Ķīpsala", Ķīšezers bathing place, Vakarbuļļi and Daugavgrīva, Bābelītis lake bathing place and Vecāķi beach.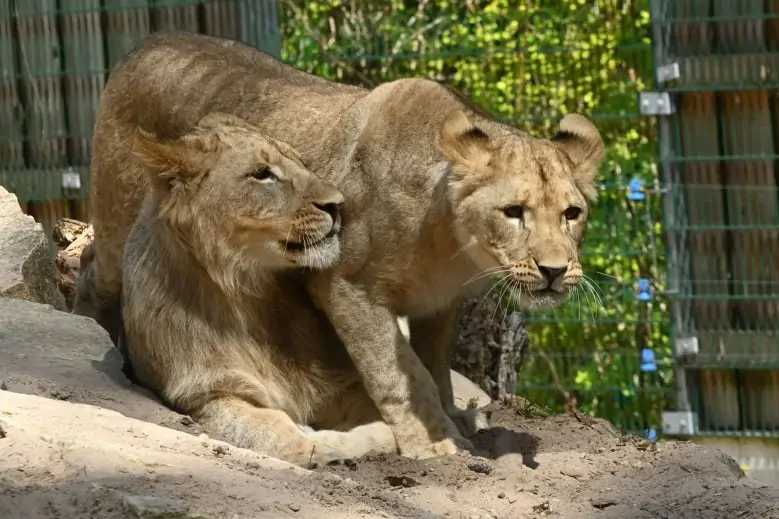 Visiting animals
In this year of Tiger, Latvia's majestic tiger Augusts has taken his place on the podium and will be waiting for his admirers at the Riga Zoo. You can go on a long walk around the zoo area and meet other four-legged, swimming and flying friends. And who knows, maybe a small animal baby who has come to the world will be waiting for you.
Address:

Meža prospekts 1

Tel.:

67518409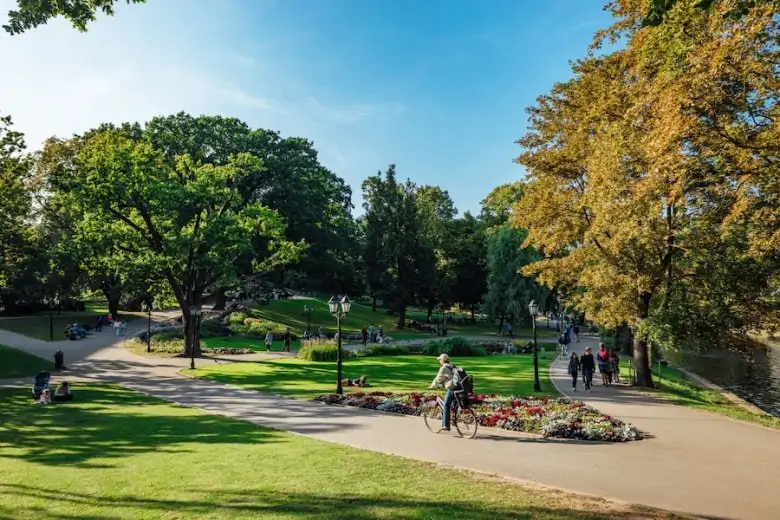 Picnic in the park
Organizing a picnic together and getting out of the house is a great way to enjoy a day outdoors. Whether you want to spend a day in the sunny Lucavsala or hide from the heat in the parks of Riga while enjoying ice-cold latte and watermelon, you can create unforgettable memories with friends and family. If you want to enjoy a refreshing dose of coffee on a picnic, then the Riga Coffee Guide will help you out, because here you can buy that dose of energy to-go. But if you want to enjoy variety of snacks or a good lunch and take it with you to enjoy on a picking, then you should explore Rocket Bean Coffee House, Balts, Terra, Kūkotava, Mr. Bunny Kitchen one of the vegan friendly places, and if you want to enjoy delicious ice cream, then go to Molbert!.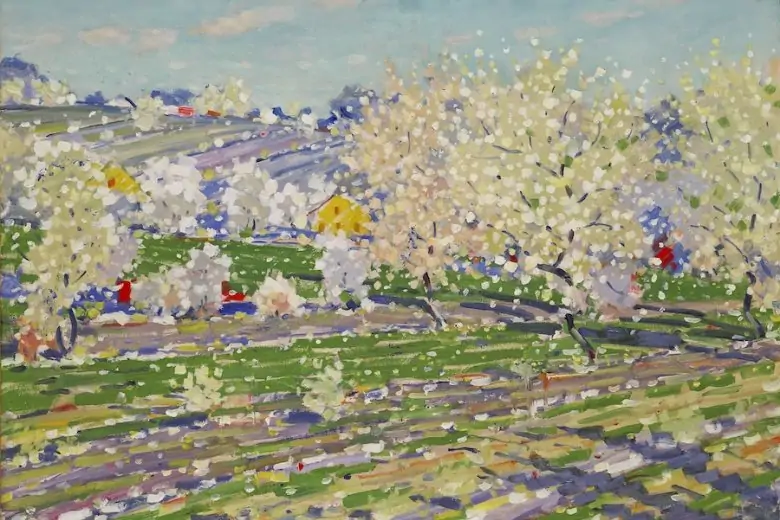 Visit the museum
If you want to hide away from the sun for a bit or if it starts to rain, Riga's museums and art galleries offer a superb opportunity to escape into the world of art. Visit one of our amazing museums or current exhibitions, where you can always find fascinating items that will make you forget about your troubles for a while and immerse yourself in the wonderful world of art.
One of the most impressive and significant exhibitions, which can be on viewed until October 8, is the exhibition "Purvītis" of the Latvian National Museum of Art. Until August 31, the National History Museum of Latvia offers visitors a photo exhibition "Colorful Latvia", but at Riga Art Nouveau Centre you can enjoy a beautiful exhibition "Forget-Me-Not".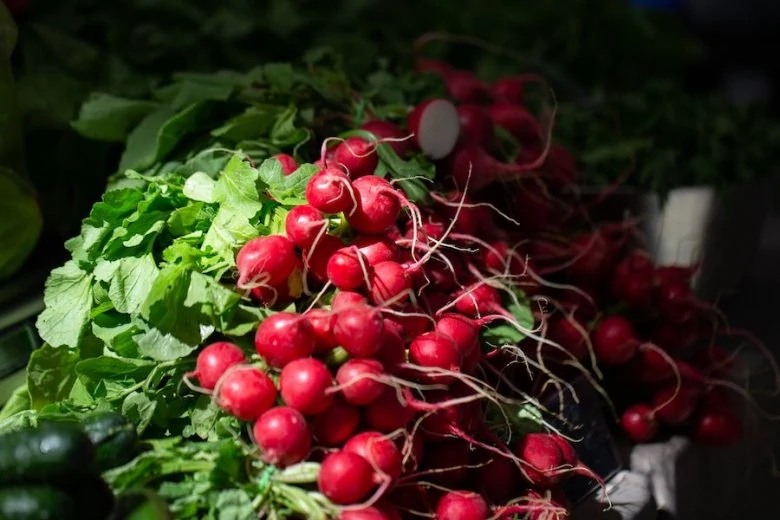 The magic of rural harvest in the city
Fresh berries, vegetables, greens, and heartfelt conversations are caught if you go to one of the favorite marketplaces in Riga. The most authentic experience can be enjoyed by visiting the Night Market. From 17:00 to 22:00 (in case of bad weather there may be no sellers in the Night Market), farmers offer buyers the freshest and tastiest produce, while on daytime in the Central Market you will be blown away not only by the fresh and delicious aroma that takes over, but also by the colorful and wide offer. Outside the city center, residents and tourists have access to the recently renovated glorious Agenskalns Market, which has quickly become a favorite meeting and shopping place. Here you will not only be able to buy fresh products, but also have a delicious meal or a refreshing cocktail. At the weekend, head to the Kalnciems quarter market, where the rich range of offers will give your stomach and eyes a pleasure - every guest will be delighted by the unique things created by craftsmen, home producers, caterers, and other masters.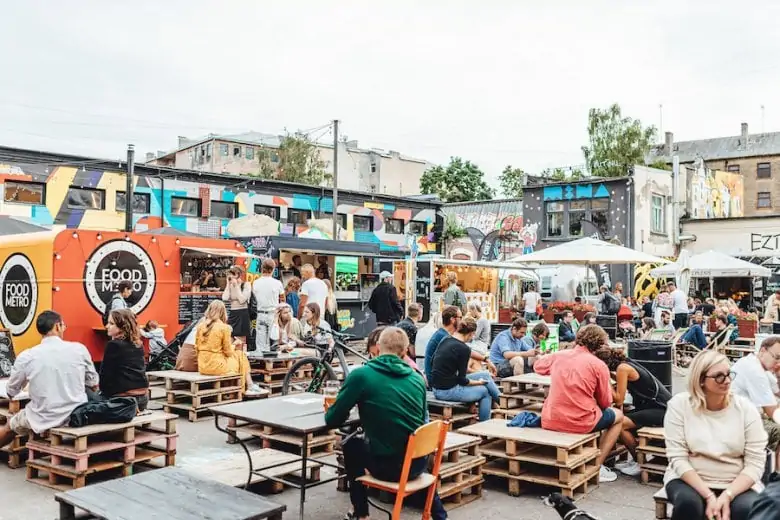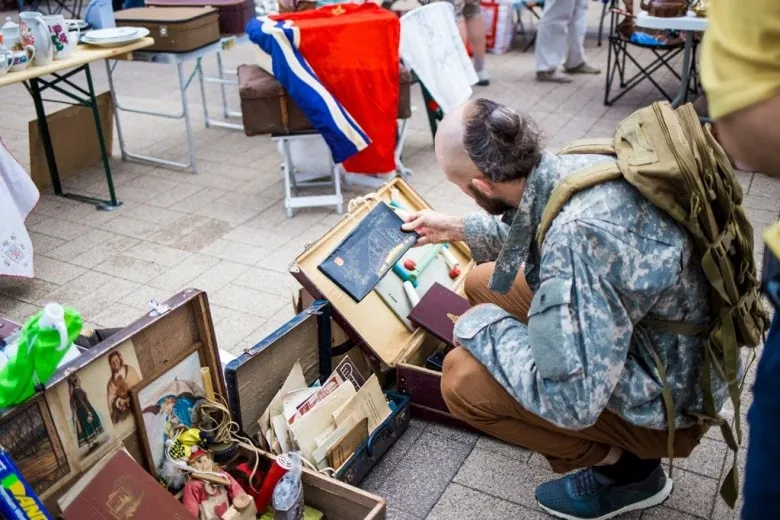 Thrift shopping in Riga Flea Market
On August 20, the Riga flea market will take place in Spīķeri. From antique design items to fashionista's closet sale – it is a heaven for crafty shoppers and treasure hunters.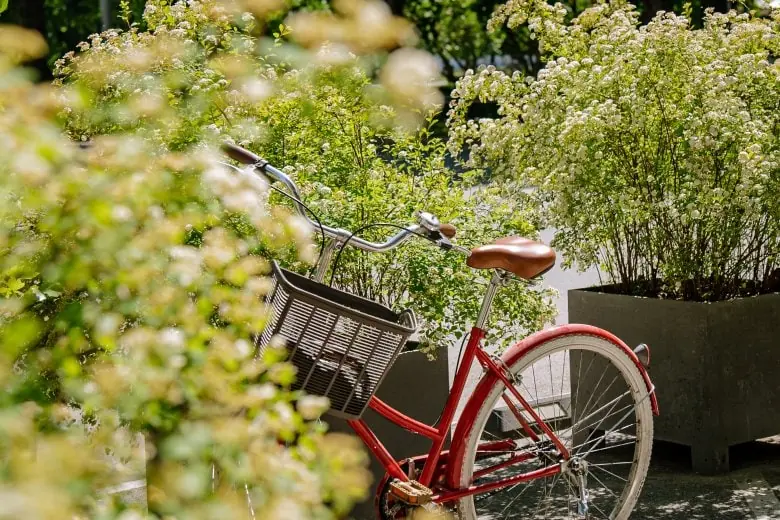 Take a bike ride
Cycling is a colossal way to travel. When riding at a slower pace, you can explore the city streets or more remote roads much more. Whether you are an avid cyclist or a holiday rider, the best way to enjoy an unprecedented place is by bike. Pedaling is considerably more fascinating than driving since you can see, hear, and even smell things you wouldn't otherwise notice. Explore the new Riga bicycle guide, learn about the routes, and pick your favorite!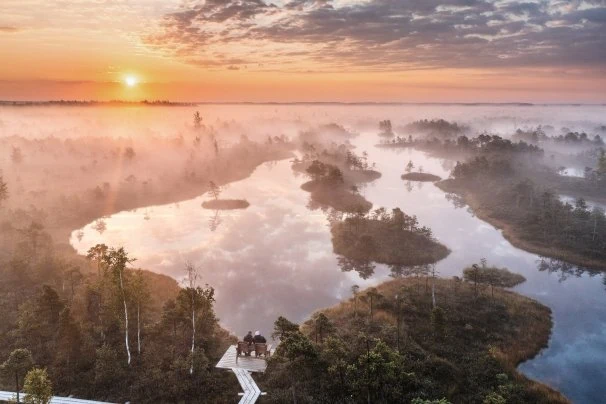 Take a day trip
If you wish to get away from the capital city for a day, you will find many different entertainment options for all tastes nearby - the little picturesque towns are a lovely destination in themselves, offering a wide range of active and relaxing opportunities. You can visit the spectacular Rundle Castle and its Rose Garden, where in summertime direct bus services run from Riga to Rundle Castle. A visit to Sigulda will be one of the most popular and appealing places. You will be able to travel by air tram, participate in various activities in attraction park "Tarzan", shop in the market, which also has excellent restaurants, visit historical sites, and, of course, attend the International Sigulda Opera Music Festival in July. Jurmala is the place to be if you're looking for a white sand beach and a sunset swim. A 30-minute train ride will take you to romantic buildings and amazing and fresh sea air. Ķemeri moor bog route will appeal to individuals who value nature and calm. On the SUP board, you may also spend the most romantic morning possible while waiting for the sunrise.