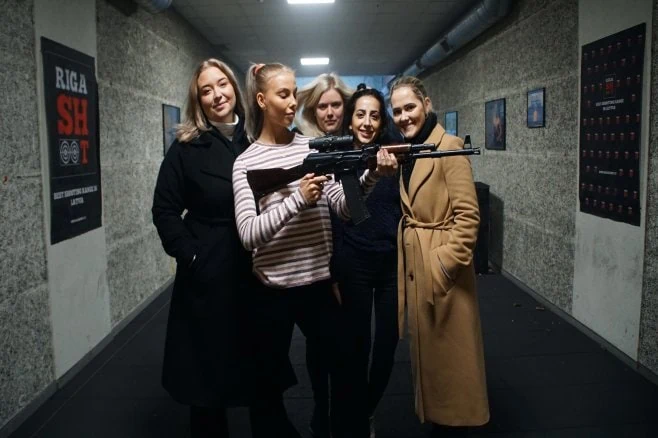 Real gun shooting range in Riga! No previous shooting experience needed. 18+
Surprise yourself and your friends. The experience is great for single shooters, couples and even groups of up to 30 people! Perfect for stag, birthday and all other types of parties!
What's included:
- Shooting instructors supervision and consultation;
- Weapons;
- Bullets;
- Headsets;
- Safety glasses;
- Shooting targets;
- Battle weapon shooting certificate;
- Water and coffee;
- Free parking.
You are welcome to take photos and videos during the shooting and will be given some time for a photo shoot with the guns during your experience.
Advantages:
- Large variety of guns, offering choice of more than 10 types of weapons;
- Suitable for groups of up to 30 persons;
- Two modern 25m long shooting galleries.
How to book:
- Choose the most suitable plan from the ready ones or create your individual plan on the website rigashoot.lv
- Book the shooting via website or call directly on +371 20285722 to place your order;
- Riga Shoot reservation department will contact you to confirm shooting time. After that you will receive an SMS or E-mail with further instructions.
And then:
- Make sure to bring your passport when coming to the shooting range;
- Have fun, enjoy shooting and be happy ever after!