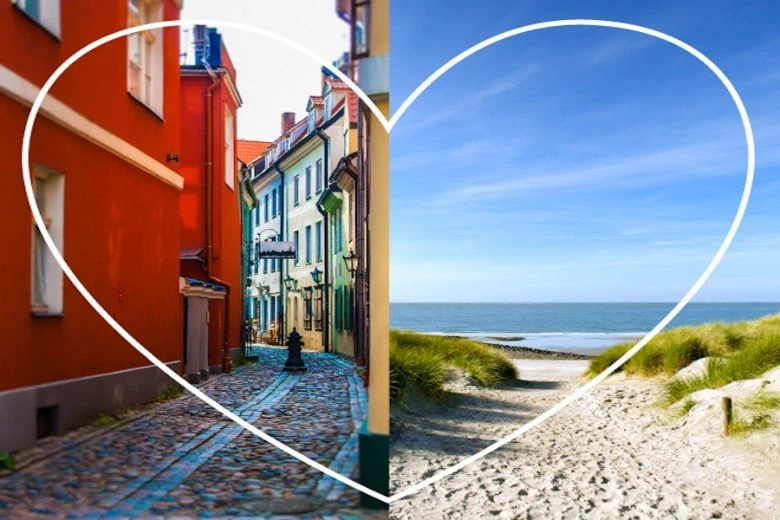 Grand Poet + Lielupe by Semarah hotels
Get more to feel, Riga –Jurmala in one trip!
Enjoy two cities and feel so different summer vibes! Culture rich capital city where centuries meet and exist in a variety of architectural styles and modern lifestyles. As well as a sunny resort with its fresh pine forest air, sea breeze and unforgettable sunsets. Two so rich feeling cities will be remembered for a long time.
Grand Poet un Lielupe by Semarah hotels - 365 EUR / 3 nights / 2 persons
Included: accommodation in Riga and Jurmala, buffet breakfast, summer cocktail, Wellness access, parking and late check out 15:00
Valid till 31.08.2020, upon availability
Address:

Raiņa bulvāris 5/6

Tel.:

+371 66119339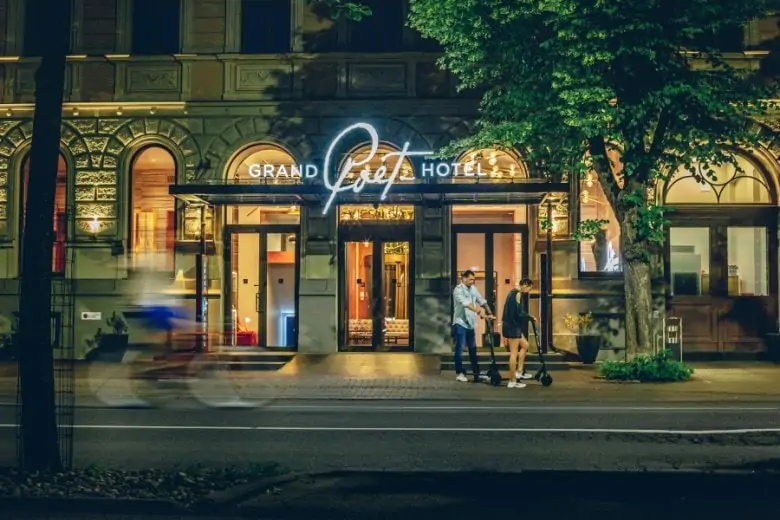 Grand Poet by Semarah hotels
5 Star Design Hotel that inspires and surprise by perfect location. Special offer "Holiday for two" - 135 Eur / night. Offer includes: design room, gourmet breakfast, welcome bubbles, Wellness centre visit, late checkout until 15:00 upon availability.
Use promocode SeeYouSoon. Offer valid until 31.08.2020
Address:

Raiņa bulvāris 5

Tel.:

+371 66119339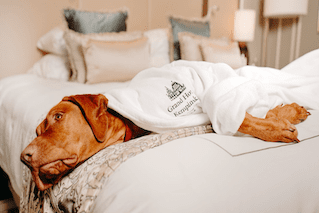 Stay in Style at Grand Hotel Kempinski Riga
Stay in Style and create special memories with luxury staycation offer. Rediscover Riga's Old town neighborhood in one of the luxurious rooms or suites, enjoy the unforgettable rooftop restaurant Stage 22 gourmet dining moments, and pamper yourself in relaxation oasis Kempinski The Spa with exclusive Spa treatments sessions.
Address:

Aspazijas Bulvāris 22

Tel.:

+371 67671111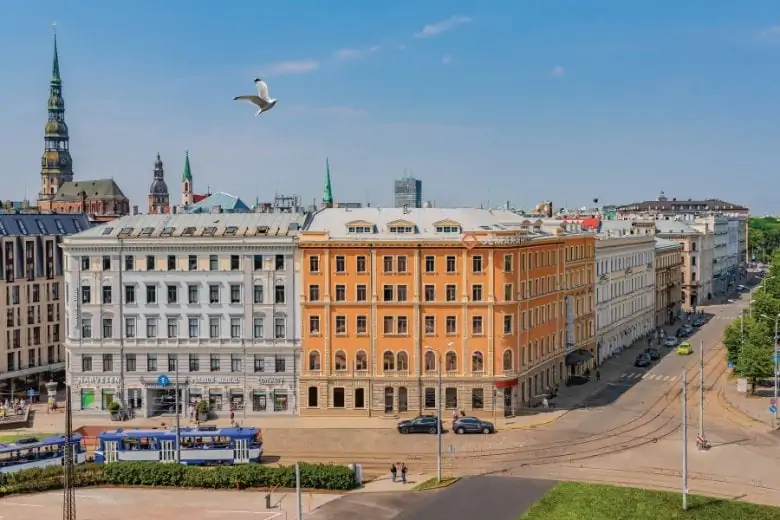 Metropole by Semarah hotels
The oldest quality mark hotel in Riga - Metropole will be an excellent place for a memorable visit. Special offer "Holiday for two" - 67 Eur / per night. Offer includes: standart room, breakfast buffet, welcome bubbles in bar, late checkout until 15:00.
Use promocode SeeYouSoon. Offer valid until 31.08.2020.
Address:

Aspazijas bulvāris 36/38

Tel.:

+371 66119339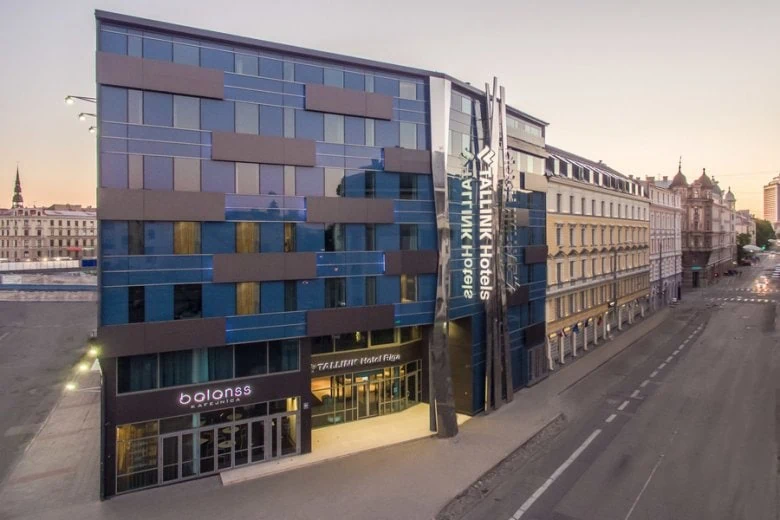 Tallink Hotel Riga
We have missed you, just as you have missed a hotel break! The long-awaited change from everyday life is here! At last you can travel again and have a break away from home, in a hotel. Next to main tourist attractions of Riga, at the edge of the beautiful Old Town, is "Tallink Hotel Riga". Families, friends and couples – all are welcome to holiday in Riga. Because only we offer a free room upgrade in our hotels and surprises on your arrival.
Use the promo code WELCOME and get rates from € 44 / per room.
Address:

Elizabetes iela 24

Tel.:

+371 67099760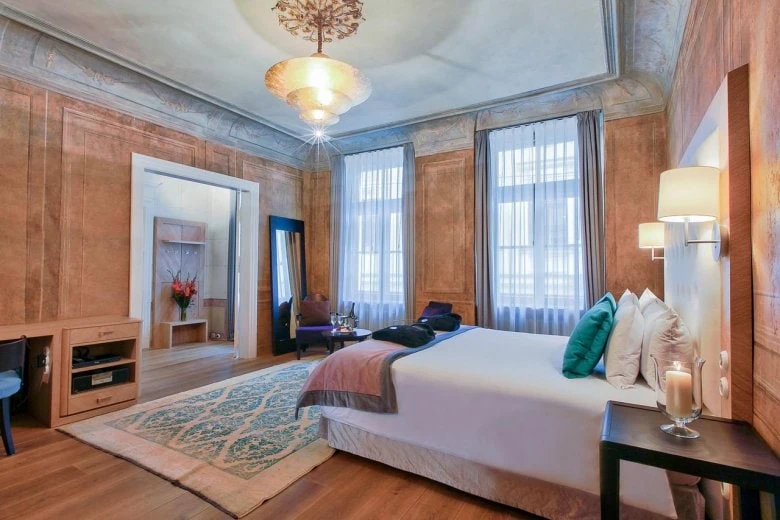 Dome Hotel
Tranquil chic and cosy luxury at a five-star boutique hotel in the very heart of Riga Old Town. Welcome to the place where hospitality meets fashion, carefully renovated 17th century architecture freely co-exists with hi-end technologies and exquisite cuisine makes every day of your stay truly fulfilled.
Address:

Miesnieku iela 4

Tel.:

+371 67509010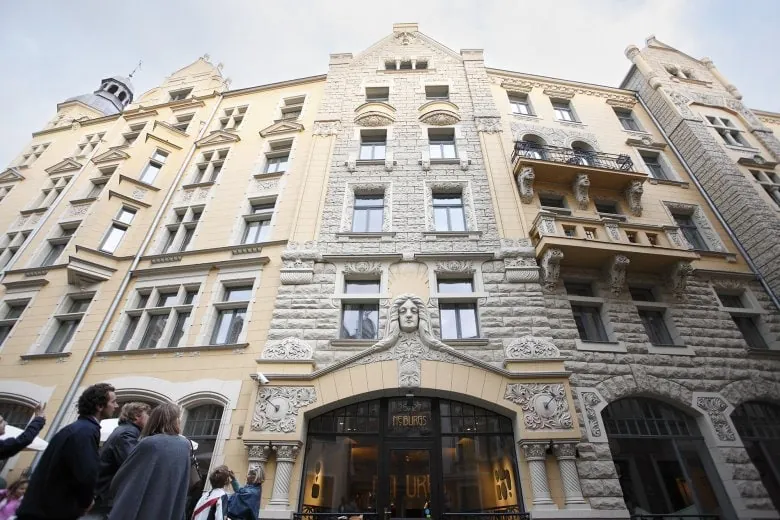 Hotel Neiburgs
The boutique apartment hotel and restaurant Neiburgs is a family-owned Art Nouveau era property located in the heart of Riga's Old Town (Vecrīga), next to the Dom Cathedral. It is only a five- to ten-minute walk to the Latvian National Opera and Ballet, the best concert halls and museums. The views from the hotel's windows are of the Old Town and the left bank of the Daugava River.
Address:

Jauniela 25/27

Tel.:

+371 20235504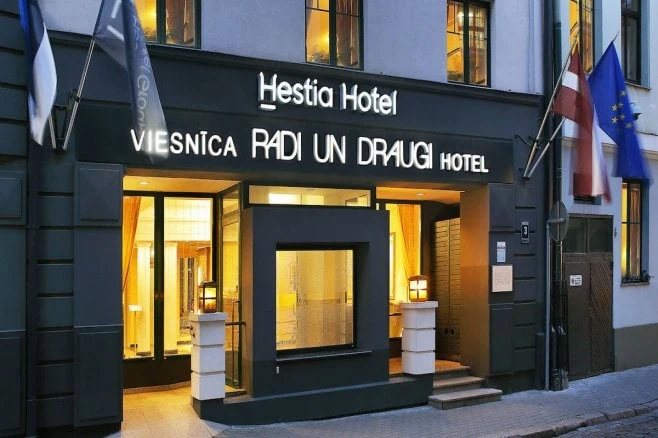 Hestia Hotel Draugi
Hestia Hotel Draugi is located in the Old Town of Riga and allows guests to roam the narrow streets to enjoy the ancient and romantic aura of the district. The hotel in Riga is surrounded by restaurants, theatres and museums, which make this an ideal location for a city break. Restaurant Niklavs offers an opportunity to try out traditional Latvian dishes with unforgettable flavours of the highest quality.
Reopening Special Offer - starting from 44 Eur.
Address:

Mārstaļu iela 3

Tel.:

+371 67820200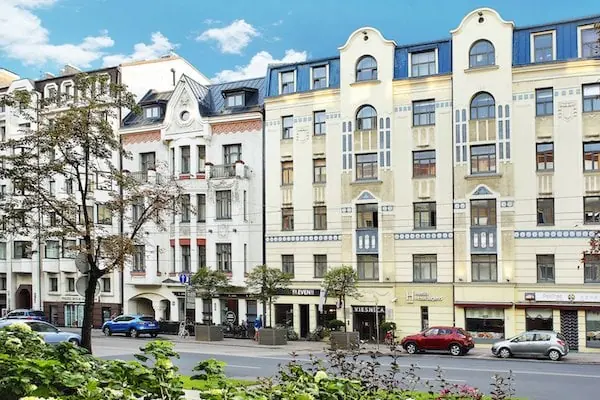 Hestia Hotel Jugend
The hotel is located in the dignified district of the city. An area well known in Riga for its Art Nouveau and the number of international embassies, only a ten-minute walk from the Old Town. Restaurant Eleven has a cozy lounge area and delicate atmosphere in a la carte area.
Reopening Special Offer - from 35 Eur.
 
Address:

Pulkveža Brieža iela 11

Tel.:

+371 67631800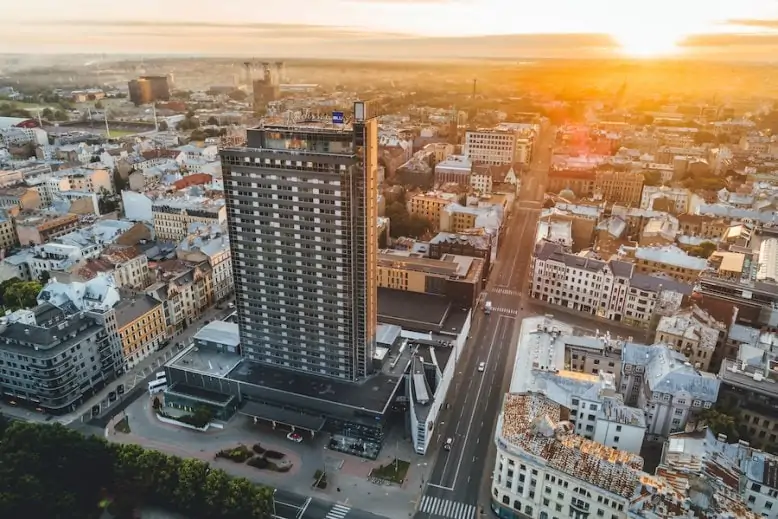 Radisson Blu Latvija Conference & SPA Hotel
Radisson Blu Latvija Conference & Spa Hotel is a contemporary high-rise hotel with the biggest conference center in Baltics and 5*SPA ESPA Riga in the city center. At 90m tall, our hotel is a bit of a local landmark. The hotel offers 571 rooms and suites, providing a choice of accommodation to suit any traveler's preferences.
Address:

Elizabetes iela 55

Tel.:

+371 67772222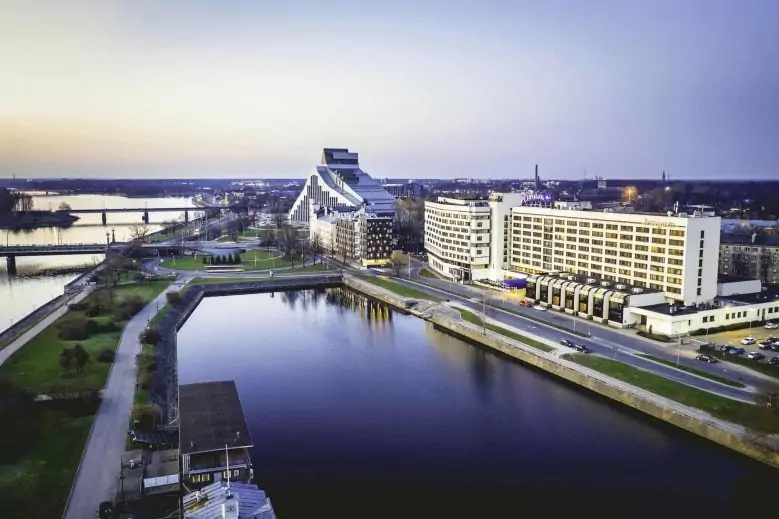 Radisson Blu Daugava Hotel
This picturesque riverside setting lies just 15 minutes from the airport and within walking distance of embassies and key business destinations. The hotel is adjacent to Riga's Old Town, where guests can visit key historical sites such as the Blackheads House, Riga Dome Cathedral, Art Museum Riga Bourse and Presidential Castle.
Address:

Kuģu iela 24

Tel.:

+371 67061111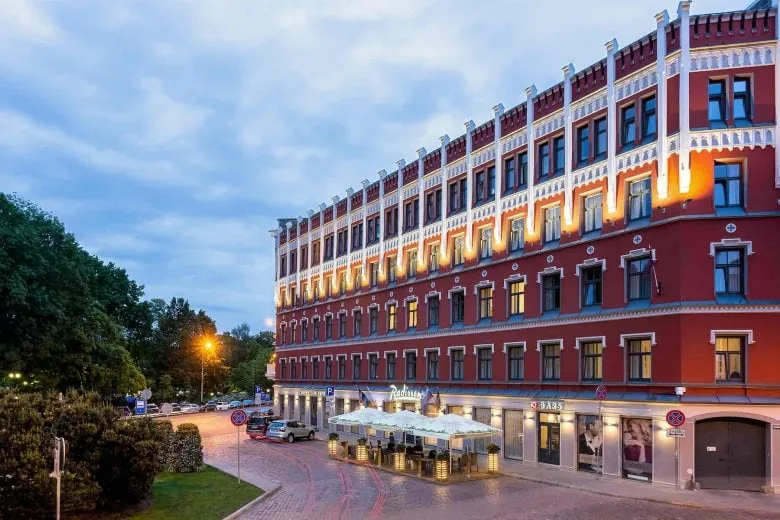 Radisson Hotel Old Town Riga
The Hotel boasts comfortable meeting accommodations in historic Old Town, just a stone's throw away from must-see Riga landmarks. You can host a grand celebration for up to 150 guests in the Academy room or gather with colleagues for an intimate brainstorming session in the 40-person Mikhail Botvinnik room. When it's time to head home, your guests can reach the RIX airport in less than 20 minutes.
Address:

Zigfrida Annas Meierovica Bulvāris 10

Tel.:

+371 67217777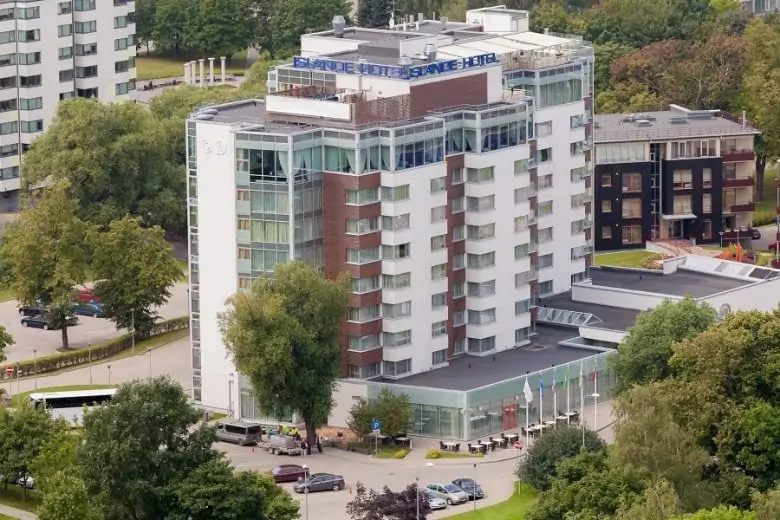 Riga Islande Hotel
4-star Superior class hotel is located on the very bank of the river Daugava with a beautiful panoramic view of the Old Town, in a green and quiet place - Kipsala. A wide range of services with 205 well-equipped rooms, two restaurants, spacious and modern conference rooms, as well as a bowling center, will provide a high level of service to our guests.
Special offers: reservation@islandehotel.lv
Address:

Ķīpsalas iela 2

Tel.:

+371 67608000