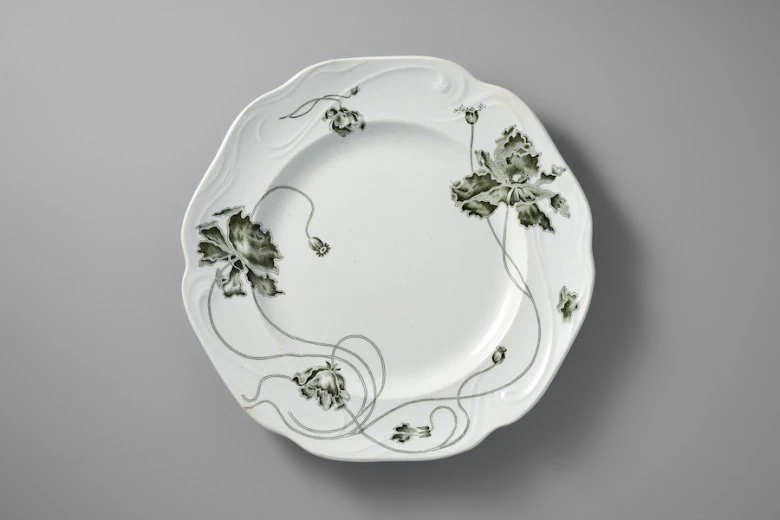 In the mood of summer flower magic, the museum "Riga Art Nouveau Center" invites to the exhibition "Poppies". The variety of elegant and colorful flowers is depicted in both early 20th century glass, porcelain and textile applied art works, as well as in paintings of Latvian artists. The exhibition has been created in cooperation with several Latvian museums, in total more than 200 objects can be viewed.
The image of the poppy with delicate, curved shapes, swaying stems and expressive flowers in the applied art objects of the Art Nouveau period represents the visual identity of the Art Nouveau period. The aim of the exhibition is to show the diverse representation of poppies in objects of various materials and art works. The image of the poppy is visually very bright, but the poppy as a plant of the opiate group is also tied with the world of dreams and subconscious mind, which, in turn, allured poets and artist at the turn of 19th and 20th centuries.
The curved lines of the poppy have raised an interest not only in artists of the Art Nouveau period, they have adorned objects also before and after the Art Nouveau. However, the eminent suppleness of the poppy is highlighted particularly in the Art Nouveau, where the expressive lines of the poppy stem accentuate the picturesque flower, and the poppy fruit invites you to immerse into the realm of dreams. In the 19th century poppies had found their place on objects in colorful summer flower bouquets, but in turn to the 20th century, the special daintiness and decorativeness of the flower has been emphasized. In the mid of the 20th century the articles of the Riga Porcelain Factory demonstrated the expressive stylization of the poppy flower. The range of diverse objects in the exhibition is complemented by an exposition of paintings, graphics and watercolors, which covers the period from the beginning of 20th century until 1990s. The exhibition features works by Gustavs Šķilters, Jāzeps Grosvalds, Leo Svemps, Leonīds Āriņš, Kārlis Neilis, Ģederts Elias, Milda Šaltiņa and other artists.