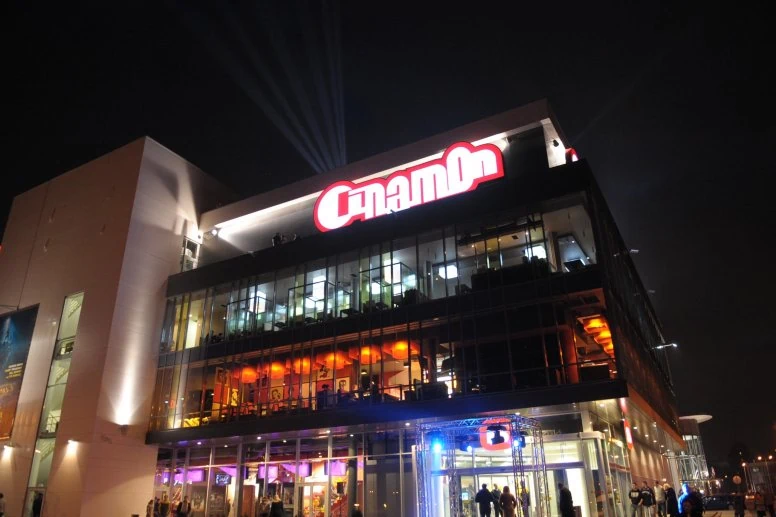 The modern multiplex "Cinamon Alfa" is located on Brīvības Street, the main "artery" of Riga. That is why it can be easily reached by car, and you can park your car in the large free car park near the cinema, as well as by public transport - the bus and trolley-bus stop is a minute walk from the cinema.
"Cinamon Alfa" has eight movie theatres with total seating capacity of 1,360. Every week "Cinamon Alfa" offers 12 to 15 latest movies. The cinema also has a 3D theatre, and all the theatres are designed to provide maximum comfort and top-notch visual and audio quality with the help of latest technologies.
"Cinamon Alfa" also offers many other leisure activities - a playroom for kids and Playxone for adults. Restaurants "Il Patio" and "Planeta Sushi" will serve you a tasty meal before or after watching a film, or you may want to have a cup of good coffee at "Coffee Break". Given that the cinema is located within the vast "Alfa" shopping mall, you may conveniently combine going to the cinema with shopping.
Those who fancy high culture will also like it here, because "Cinamon Alfa" offers regular broadcasts of opera and ballet performances from the world's most famous opera houses.
The multiplex also has special offers for families with babies: every Tuesday there are special screenings at a lower price that are specially adapted for families with babies or toddlers.
The cinema provides "single window" service - visitors can buy tickets as well as snacks at the same time, without having to stand in two different queues. Tickets are also available online.
"Cinamon Alfa" also offers venues for birthday celebrations as well as business or recreational corporate events.