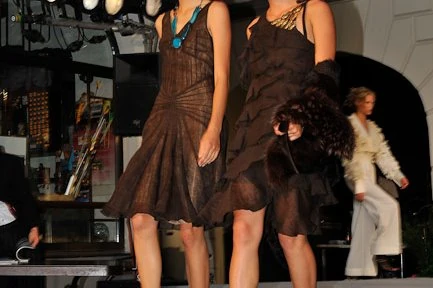 Shop KLASE offers the current clothing and accessories collections of Latvian designers for ladies, gentlemen, and children, standing out with high quality and individual style characteristic to Latvia.
The collections are small, but most things offered in the shop are unique, created only in one copy, from natural materials such as linen, silk, cotton, mohair, wool. Exclusive bags, posh shoes, elegant socks and gloves — everything has been made here in Latvia.
KLASE represents renowned and popular fashion designers that have been awarded at fashion weeks in Latvia, Russia and Europe, as well as new and talented fashion designers.
KLASE is something more than a clothing store. It is the centre of creative ideas, a place offering the possibility to attend fashion shows, personal style consultations, private fashion parties, and participate at special evenings with artists. Here you can receive consultations and services regarding decorative cosmetics and try qualitative ecocosmetics made in Latvia.
Participants — designers of shop KLASE:
Amoralle, Anita Altmane, Cecina, Cinnamon, Colorlicious, Dasada / Something Cozy, Aleksandrs Pavlovs, Ilona Kambare, Modris Klingenbergs, Hypnosis / Agnese Narņicka, Inch daile, Inese Lapsiņa, Inga Tauriņa, JODO, Liene Mūrniece, Madara ecocosmetics, manaLatvija.com, Narciss, Reinis Ratnieks, Ringla, Romāns Straupmanis, SALT, Šeila, Sniegbaltīte, Tasty Things, Una Vita, Žanete Auziņa, etc.