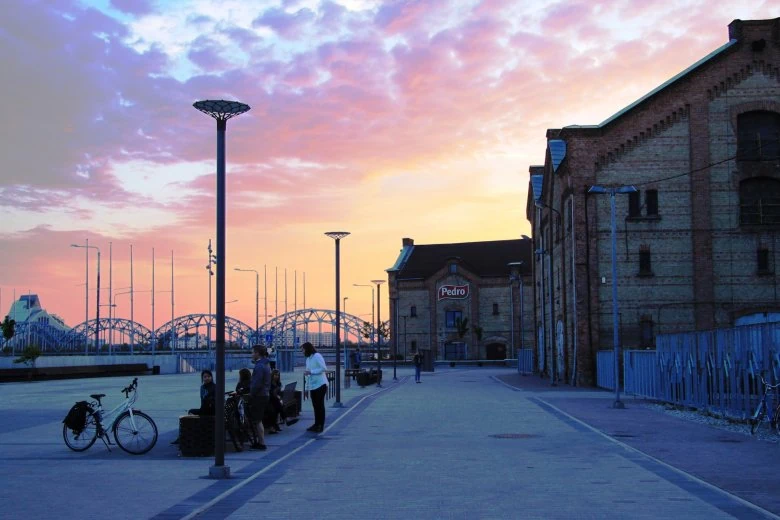 15 minutes away by foot, southward from the center of the Old Town of Riga, along the right bank of the Daugava, is a quarter gilded with a historical aura – Spikeri Quarter and its adjacent promenade, which are part of the territory of UNESCO Cultural Heritage – the historical center of the city of Riga.
Since the 14th century, Spikeri Quarter had a wharf for loading and unloading cargo ships. The location had several warehouses (Hanf - Ambaren or "hemp warehouse" in German).
The warehouse quarter or Spikeri Quarter was created in the second half of the 19th century, when the territory was covered with uniform warehouses. Designed in the 19thcentury by the best architects of the Baltic States, the simple but striking red brick buildings there are 150 years old.
As in many old industrial quarters in European cities, Spikeri Quarter, too, is home to the arts, restaurants, and offices. During the warm time of year, Spikeri Quarter offers a wide choice of open-air events, concerts, sporty activities, other and entertainment. Spikeri Quarter is an enterprising venue, as well as one of the "hottest" spots during the capital's large-scale happenings - White Night Festival, Riga City Festival, Night of Museums, Riga Restaurant Week, etc.
Visitors
Dirty Deal Teatro is a place where the new filmmakers, choreographers, playwrights, and other new artists give the audience an original theater experience. By creating plays, the writers are looking for novel ways on how to communicate with the audience. For this reason, those, who arrive at "Dirty Deal Teatro" out of curiosity or habit, learn new ways how to perceive theater, how to think about it, how to feel it. (www.dirtydeal.lv/teatro/)
The quarters' pride is the Spikeri Concert Hall - a building used by the chamber orchestra "Sinfonietta Riga" and one of the greatest choirs in the world "The Latvian Radio Choir". The venue hosts concerts of varied genres and styles, as well as movie screenings. The concert hall often features chamber music which tends to stick to various unusual genres. The concert hall also hosts jazz nights and instrumental experiments. (www.sinfoniettariga.lv)
This quarter is also linked to some of the dark pages in the history of Latvia. During World War II, located here was the Riga ghetto, as the territory of Spiker Quarter is part of Riga's Moscow suburb, where the majority of residents were Russian merchants and Jews. You can find out more about this history at the Riga Ghetto Museum in Spikeri. (www.rgm.lv)
Improvement projects were finalized in the summer of 2013, and Daugava's riverside was turned into a promenade, which has now become popular for relaxing strolls, with a wonderful view of the Riga bridges and Old Town. Revitalization of Spikeri Quarter and the surrounding embankment is Riga's most significant public space project of past years.