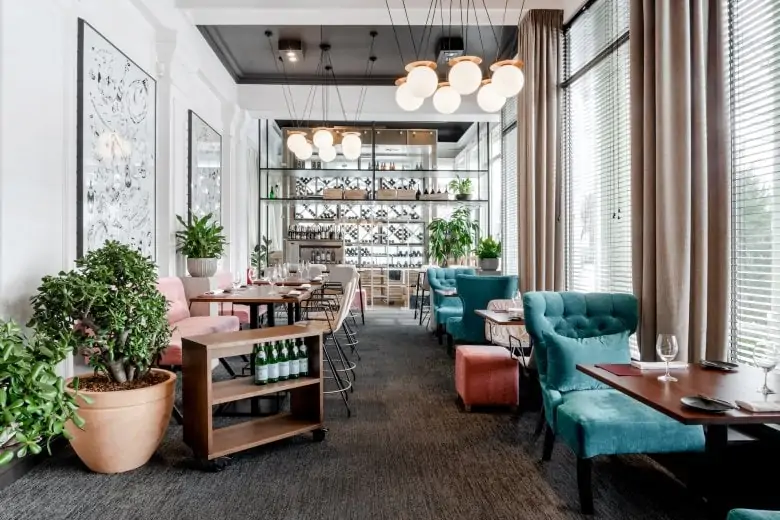 BIBLIOTĒKA N°1 Restaurant is one of the best modern Latvian kitchen restaurants in Riga, which after its recent reconstruction has returned not only with a modern and bright interior, but also a new concept - wine restaurant/bar. The restaurant is proud to be located in the prettiest park in the Latvian capital, and also features a live ''green wall'', which together with paintings by artist Kristīne Luīze Avotiņa make the restaurant a place where art and nature come together in the heart of Riga.
The first floor of the restaurant is a wine restaurant and bar, where you can enjoy a good lunch and dinner or just take a leisurely drink with friends or colleagues. But the second floor has been turned into a Private Dining concept for special life events. The menu of the new restaurant is a real gourmet library - clean, seasonal and proven products. In addition to meat dishes, a wide range of vegetarian and fish dishes are available for a happier life every day.
Chef Kaspars Barsukovs manages the restaurant's kitchen, where the food masterpieces are created, but the selection of the best wines has been entrusted to Ivo Orlovs for years. Together we have created an excellent wine list and three menus, where you will find the best from Latvia's Latgale province to French cuisine. The first menu - Bibliotēka No1 A la Carte, features tapas, snacks, soups, main courses and desserts for all tastes and price categories. The second is a lunch menu that changes twice a month. And the third is a three-price level dinner offer that will be the best choice for private or corporate event organizers.
BIBLIOTĒKA №1 Restaurant is also the only restaurant in the Baltics which has been granted the Wine Spectator Award of Excellence in 2013 and 2014 for its specially selected wine list.
BIBLIOTĒKA №1 Restaurant is one of the largest restaurants in Latvia, which can accommodate up to 300 guests on two floors and terraces, and up to 700 guests for standing events.