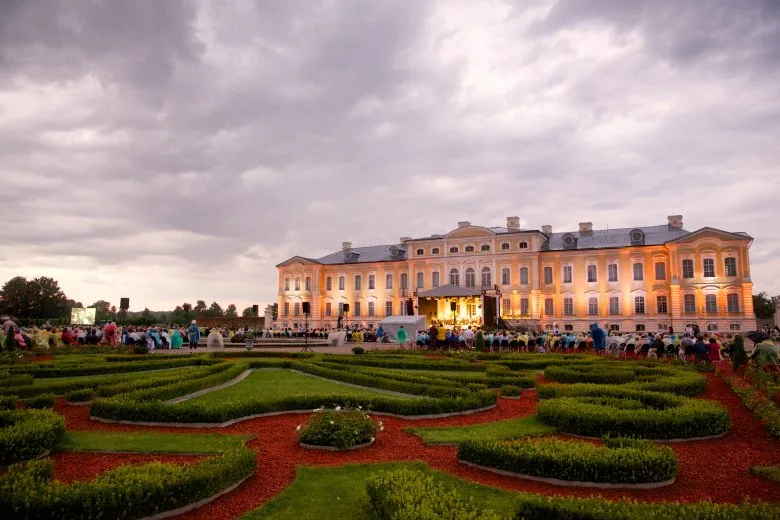 The festival will move to one of Latvia's baroque masterpieces on the final day - Rundāle Palace, which is just a short hour's drive from Riga. Five concerts will be held at the palace on the final day of the festival.
1:00 p.m., at Rundāle Palace's White Hall, the concert performance for children called A Tale of Salad Leaf and the Prince will be performed. From 11:30 a.m. at the palace's courtyard, various creative workshops for children will be up and running where, with the help of local artists, they will be able to create themselves the necessary accessories for the upcoming musical concert.
4:00 p.m., a concert called Charm of Western Europea Baroque will be performed by the Paper Kite ensemble, and will feature German, Spanish and Italian baroque music.
6:00 p.m., at the palace's Gold Hall, a concert called Pearls of English Renaissance will be held, featuring performances by Elīna Šimkus (soprano), Mauro Pinciaroli (theorbo) and Kristīne Stumbure (flute).
8:00 p.m., at the palace's White Hall, a concert called Handel's Most Beautiful Arias will be held, which will feature a performance by the baroque orchestra Collegium Musicum Riga together with counter tenor Sergejs Jēgers.
10:00 p.m., the festival's closing concert called Antonio Vivaldi's Seasons will be held in the palace's gardens, which will be performed by the Sinfonietta Riga chamber orchestra and the youthful and emotional violinist Vadim Gluzman.
Rundale Palace
13:00
13.07.2019
Rundale Palace
16:00
13.07.2019
Rundale Palace
18:00
13.07.2019
Rundale Palace
20:00
13.07.2019
Rundale Palace
22:00
13.07.2019
Buy a ticket