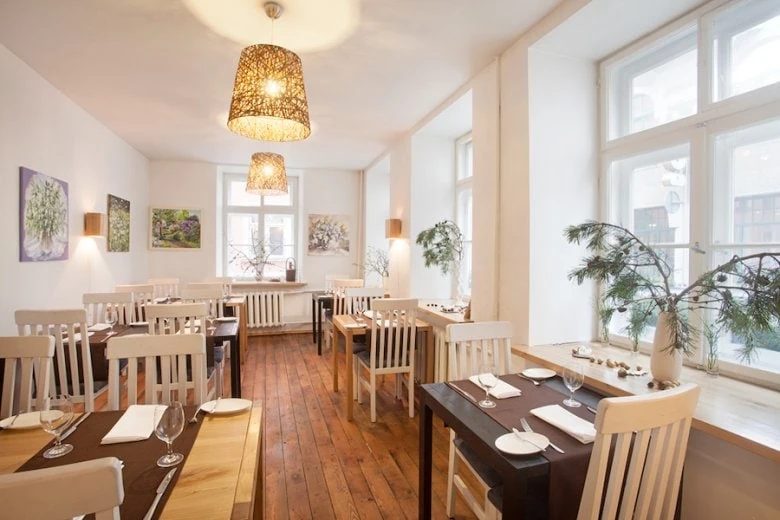 It is worth visiting Valter's restaurant if you wish to enjoy the atmosphere and hospitality of the Latvian countryside, as well as dishes of the Latvian cuisine cooked of seasonal products. Here, in a peaceful atmosphere, you can savour delicious courses of the contemporary Latvian cuisine.
Interior
The motto of Valter's restaurant — the countryside visits the city, which is why you can see aspirations to create as hospitable and genuine atmosphere of the Latvian countryside in the interior as it is possible. Latvian landscapes have been used in the entire interior which resembles a simple, though elegant estate where every visitor would feel like a long-awaited guest.
Menu
The menu of Valter's restaurant is based on Latvian rural products only: milk, vegetables, meat, fish, fruits, and game supplied by local farms. The only products here that have come from abroad are salt, coffee, and pepper. The menu is constantly changed according to the seasonal offer of farmers. Probably the restaurant's menu would not surprise you with exotic dishes, although they will be an enjoyment for everyone looking for an authentic local food, served not only on plates, but also on Latvian wood, ceramics, stones and other natural materials.
Why is it worth visiting?
First of all, because of the products themselves — they are fresh and come from Latvian farms. Second, dishes made of fresh products taste exceptionally well — their taste is much more outspoken. Third, this restaurant is good at creating a peaceful, pleasant and hospitable atmosphere characteristic of the Latvian countryside.