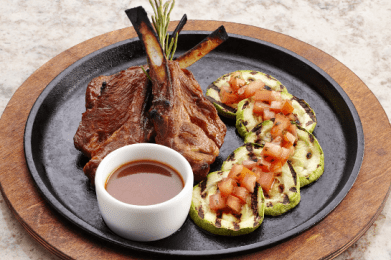 IL Patio & Planeta Sushi is a restaurant where attempt has been made to join classic dishes of the joyful Italian cuisine with even-tempered Japanese cuisine — it is like being in two places, in Italy and Japan, at the same time — a bold decision for lovers of the two cuisines.
Interior
The restaurant is situated on two floors — IL Patio, with its unrestrained atmosphere of an Italian restaurant, is on the first floor. The second floor has been reserved for Planeta Sushi, a Japanese restaurant airing even-temperedness and restraint characteristic of the Japanese culture.
Menu
You can order both Italian and Japanese dishes at the restaurant. There are various seafood items along with meat dishes, pastas, pizzas and desserts on the menu of the Italian restaurant while the Japanese restaurant offers its traditional sushi, sashimi, Japanese salads and soups, smashing hot dishes and desserts.
Why is it worth visiting!?
It is not too often that you can savour cuisines so different in one place. Italian and Japanese cuisines are colourful enough to enjoy such an eclectic style.