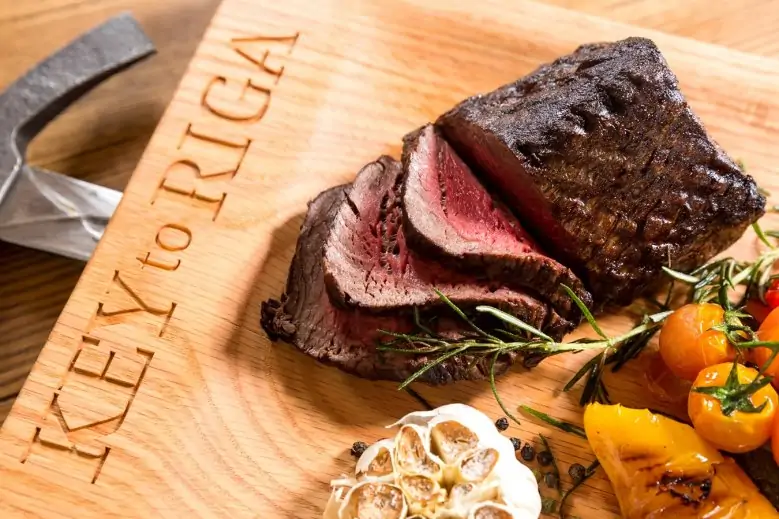 Traditional, but thought-out and sophisticated meals, a great view on one of the most beautiful and magnificent churches in Riga — this is what restaurant Key to Riga offers, atmosphere of which allows enjoying both modern restaurant culture and the history of Riga.
Interior
The interior of the restaurant Key to Riga has been designed as a reference to the history of several centuries when skilful local and foreign traders, successful craftsmen and noblemen could be met on Riga's streets. Pub was the place for meeting, discussing news, trying some delicious meal and have some beer. Key to Riga offers a similar atmosphere.
Menu
The restaurant menu stresses the traditional Latvian meals, including snacks, salad, soups, main courses, desserts, and a plate of old Riga meals. The menu offers a wide choice of meals, including meat, fish, and vegetarian dishes. In a way it resembles a sumptuous meal of a nobleman, allowing experiencing history of several centuries at least partially. Try the especially traditional local meal — smoked pork shank with mashed potatoes and horse radish and stewed cabbage.
Why is it worth visiting?
First, it is the place and location — Key to Riga is located at one of the historically most important locations in Old Riga, and there is a wonderful view from the restaurant on one of the oldest churches in Riga — Dome Cathedral. Second, this is the right place if you are looking for an authentic Latvian kitchen, without any exotics.