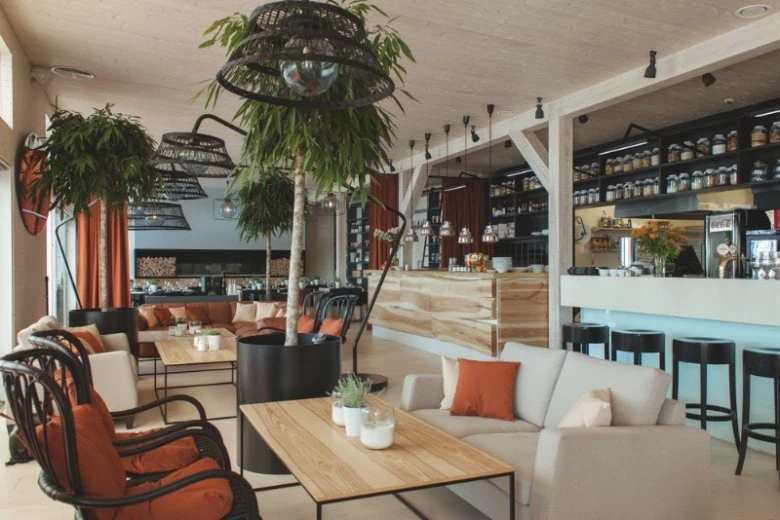 "AQUA LUNA" restaurant, bar and lounge is located in Andrejsala on the right bank of the River Daugava — still in the city centre, yet far from the hustle and bustle of downtown. Excellent menu and elegant interior design make it the right place to have a nice dinner, have a meeting, establish new business contacts, or simply have fun in a company of good friends.
Cuisine at "Aqua Luna" is a congregation of continents and nations. Classic Mediterranean along with unique spring rolls, seafood in original presentation, select dishes for vegans and fancy desserts. All with accent on eco-products, light and balanced entrees and appetizers. The menu focuses on modern European cuisine with Asian accents, using classic cooking techniques and the latest culinary art.
The restaurant's menu was compiled in cooperation with Belgian chef Kenny Bernaerts, who has worked in many Michelin-starred restaurants across Europe, participated in the world famous TV show "MasterChef", and now does consulting for the restaurant business worldwide, and is preparing his own concept restaurant in New York.
"Aqua Luna" is the perfect place for a business lunch or a dinner together with the family, friends or colleagues. Friday and Saturday night is party time, whereas every Sunday from 11:00 visitors are offered brunch with a variety of meals on the menu.
The restaurant is a recipient of the "Best Design Award 2013". In the summer, there is a terrace at the restaurant which features a magnificent view of the River Daugava, the yacht club, ferries anchored at the Riga Passenger Port, the rooftops and spikes of the Old Town, the Vanšu Bridge and the modern office buildings along the river. In the autumn and winter, "Aqua Luna" becomes warm and cosy, offering visitors the opportunity to sit by the fireplace and watch the flames sparkle.