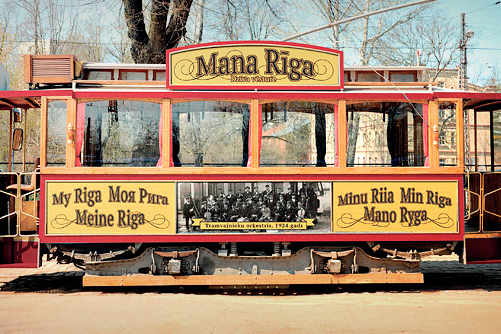 Every weekend and bank holiday from May until September the Retro Tram runs the route from Ausekļa Street, via Radio Circle, to Mežaparks, and back. A single ride costs EUR 2.00. Tickets can be purchased from the driver.
Riga introduced electric trams in 1901 to replace the former horse-drawn carriages. This particular model of electric tram from 1909-1910 was built in 1982 using old blueprints and photographs. The carriage weighs 9 tons and can accommodate 30 people with seating for 18 passengers.
Since railway transportation doesn't pollute the air, you can ride with peace of mind - you don't have to make any decisions. You can watch the city go by and choose which stops sounds appealing.
The Ausekļa Street stop is embraced by old parks and the majestic Latvian Naval College building. From there, walk Elizabetes Street until you reach the famous quarters of Art Nouveau and historicism architecture. You can get a taste of the quarters' atmosphere, filled with little stylistic details, from the splendid early 20th-century buildings en route, such as the National Opera and the National Theatre, both hubs for the most prestigious cultural events.
Mežaparks, called the Lungs of Riga because of its vast forest, is interesting for its many examples of functionalist architecture. Its quiet, compact and green network of streets with private residences are on the bank of Ķīšezers Lake. After a cultural stroll, you can have lunch in the centre of the district at Gustavs Ādolfs, whose pastries send a delicious smell wafting into the air. Or if you're traveling with kids, you will love the open-air picnic spots near the lake, convenient playgrounds and designated swimming spots. Mežaparks is also the location of the Riga Zoo.
The tram will call at all stops. Tickets can be purchased from the driver and are valid until the final stop. A single ride costs EUR 2.00. Tickets can be purchased from the driver.
It costs EUR 85 an hour (including VAT) to hire the tram on weekdays, or when it is out of service.