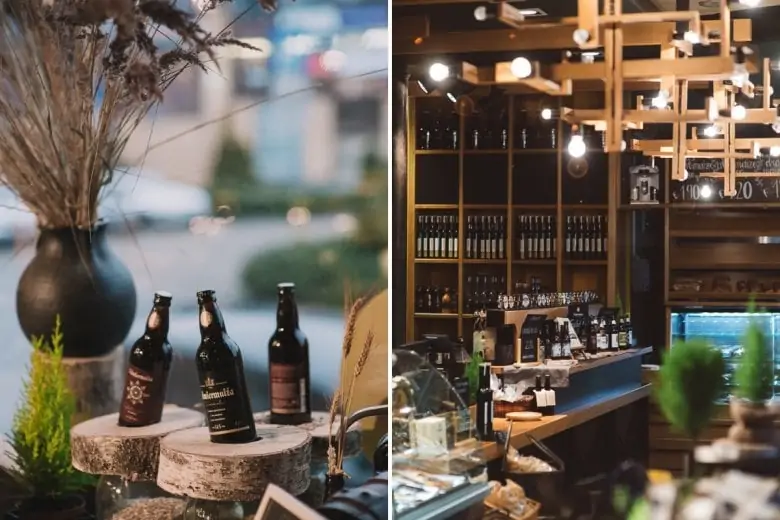 The "Valmiermuiža" shop offers fine beer as the priority product, as well as Latvian grain malt drink "Zelta Zirgs" and the non-alcoholic lemonade "Gardu Muti". You can buy "Valmiermuiža`s" Degalus (distilled craft beer) and other elegant strong drinks as a special treat. Hospitable shop-assistants will advise you on which other high-quality local products compatible with beer you should buy.
Fresh homemade bread and sauces made from beer as well as variety of sweet and sour delicacies made from local products also are available here. Real gourmands can discover new taste sensations, like beer together with special hors d'oeuvre made from "Valmiermuiža" beer. If you want to buy special gifts you can choose assortment of treats and snacks and handicrafts.
"Valmiermuiža" hosts offer special oak casks filled with unfiltered beer for anniversaries, festivities and chic functions. Cask beer cooler with draught equipment for filtered or unfiltered beer is also available. The shop - assistants will suggest about types of brews, their harmonious blend with other festive tastes, as well as explain rental terms. For more sophisticated gatherings, "Valmiermuiža" advises beer glass rental because it is a well-known fact that beer enjoyment starts with its colour, sturdy foam, special aroma and taste, complemented with perfect service.
Valmiermuiža`s hosts have closely decided to carry on the traditions of hospitality started in landlord`s manner. "Valmiermuiža`s alus" Embassy invites everybody to visit brewery in Valmiermuiža to find out the secrets of brewing and enjoy the beer on the spot. You can also try Beer Kitchen cuisine in Valmiermuiža Barn nearby the brewery but the shop offers you tasty treats for friends.