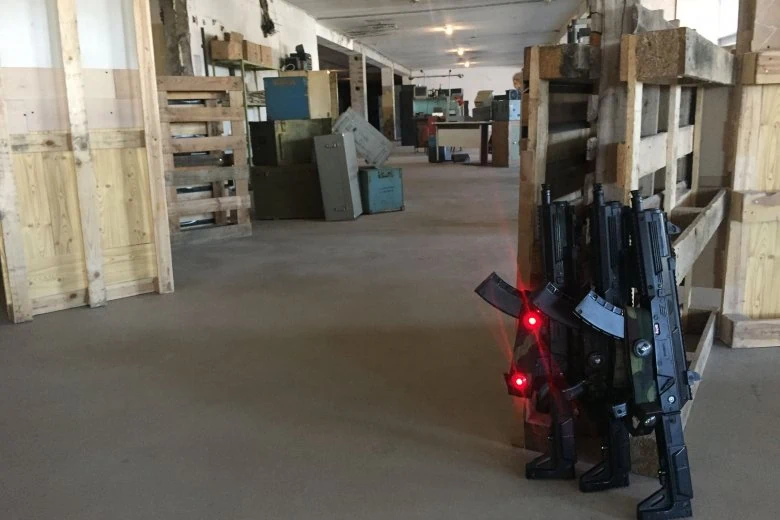 Poligon 1 is the first and largest such company in the Baltics will specializes in laser-tag systems.
The first specialized laser tag polygon in Latvia was opened in Sigulda, on the territory of a former military area, where the entire environment for carrying out these exciting games is kept with a wide selection of military arsenal. All the weapons are fitted with electronics, using an infrared beam, which makes the game safe for all participants. Participants can choose the battle arena (hangar, auto park, barracks, field, headquarters etc) they prefer, as well as individual weapons for each player. Professional instructors will conduct instructions and show the area in order for the participants to gain maximum emotions and adrenaline during the time spent at the polygon.
Both hardy and strong men in spirit, as well as women and children can play laser tag with pleasure. It requires the ability to play as a team, reaction, attention, concentration and the most important - desire. Laser tag is an unforgettable game battle which will be remembered as a celebration with friends or colleagues, or just as an interesting and exciting pastime.
A new game arena was recently opened in 2016 on the territory of the former factory Radiotehnika RRR in Riga. Visitors will enjoy the new surroundings, interesting missions and test their tactical skills. The game principle remains the same at both polygons.
In addition to the existing game arenas, the company Poligon 1 organizes away games, participates in a variety of sporting events, festivals, exhibitions, city festivals and presentations. Furthermore, Poligon 1 organizes missions in the abandoned military town of Skrunda-1, where games are organized in accordance to a specially prepared scenario - emotions and adrenaline guaranteed.
Poligon 1 offers sports recreation for the whole family and is gaining popularity which well-crafted game scenarios and an extensive arsenal of weapons. The arsenal of weapons is very diverse, ranging from the very simple and light, which are very convenient for those who play this game for the first time, up to more advanced and sophisticated weapons.