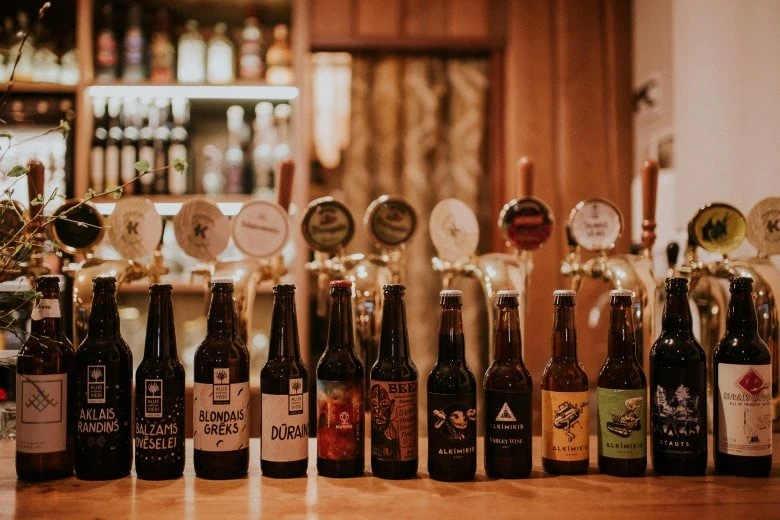 We invite you to enjoy the beer district together with a merry guide, where there will be five stops to taste excellent Latvian craft brews together with tasty snacks.
During the 19th century, Riga was a beer brewing capital - breweries produced beer around the clock to ensure the demand of thirsty Rigans, as well as those living outside of the city.
Portentously, the Riga Beer District is graced by three historical breweries: Kimmel, Kunzendorf and Stritzky. Although these giants foundered amidst the turbulence of history, the spirit of beer lives on. After Valmiermuiža Brewery established its Riga Embassy on the premises of the former Stritzky Brewery, one after another, a host of new pubs opened their doors in this neighborhood, some of which even installed their own brewing apparatus.
The Riga Beer District brings together the Labietis beer workshop, the micro brewery Ziemeļu Enkurs, the Taka and Walters & Grapa pubs, which offer beer from various micro breweries, the hipster joints Vest and Kaņepes Kultūras Centrs, the alternative party center Autentika, the heavy metal bar Zobens un Iemess, as well as the Valmiermuiža Embassy (Valmiermuižas Alus Vēstniecība) in Riga. The pub and brewery Alķīmiķis is also located nearby.
These ten pubs, each with its distinct character and clientele, help bring the public nearer to craft beer produced by true brewing masters. It is also convenient that they are all walkable distances from one another.
The Beer District Tour begins at the Valmiermuižas Alus Vēstniecība, where the guide will offer a taste test of Valmiemuiža beer together with specially selected snacks from the Latvian countryside.
The tour will then take the visitors to three small brew pubs, where true craft brews are made and it will be possible to taste some more delicious snacks. Meanwhile, the beer bars on the way are famous with their wide selection of Latvian beers - an excellent opportunity to taste what Latvia has to offer.
Duration of tour - 3 to 4 hours
Tour start time - 6:00 p.m.
Starting point - Valmiermuižas Alus Vēstniecība, A.Briāna Iela 9a, Riga
Tours are available in Latvian and English.
Price: EUR 38 per person.
Beer Quarter Tours are available on Tuesdays and Wednesdays, but must be booked ahead by phone at +371 20264269 or email at info@valmiermuiza.lv.