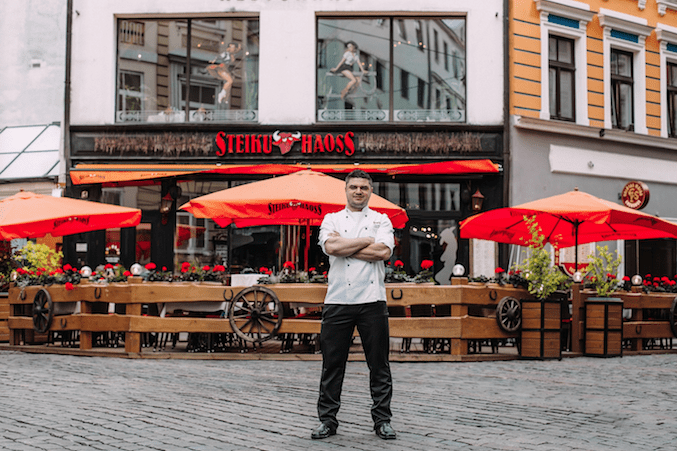 The best steak in town!
Steiku Haoss trademark is outstandingly roasted steak and the Wild West atmosphere. In the restaurants you can taste 17 different kinds of steaks – tenderloin, strip loin, lamb, pork, poultry, all of which are cooked using only natural spices. To enrich steaks flavor choose different kind of side dishes, mellow wine or fresheners.
Every restaurants guest has a fantastic opportunity to watch steaks roasting process because a grill is placed behind a wall of glass. Steiku Haoss interior is made from wood, supplemented< with metallic elements form Latvian countryside – table legs, horseshoes, and fireirons. Peltry, special graffiti murals, waitresses wearing check shirts and ten-gallon hats, as well as the best Latvian country band performances makes the Wild West atmosphere even more real.
In the summertime Steiku Haoss offers its guests to relax in the outdoor terrace. Inexpressibly delicious steak, refreshing cocktail, delightful dessert and gentle whiff of air will bring you into the Wild West!