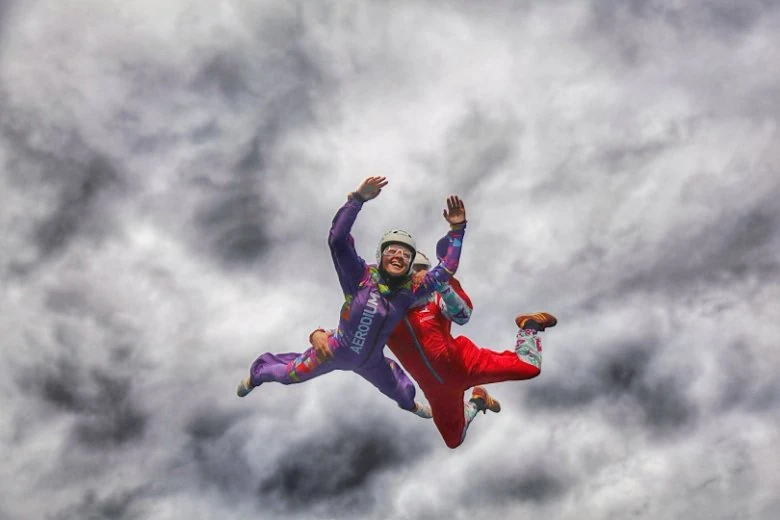 Feel the freedom of flying at the Aerodium vertical wind tunnel! The age-old dream of flying like a bird has come true thanks to the powerful air stream. The Aerodium athletes have already showcased their skills at the Torino 2006 Olympic Games and at the World Expo 2010 in Shanghai. Now come and experience flying yourself at Latvia's only wind tunnel in Sigulda, just a 30-kilometre distance from Riga.
The beginnings of Aerodium saw scientific discussion on the possibility of lifting people by vertical air stream. Now the relaxing attraction has become popular among all those who are looking for new senses. This activity is good for your physical condition and develops the ability to control your body and movements, as well as charges you emotionally as you can find how to control wind! You will also like the learning process itself; people are enthusiastic even if they face difficulties.
Aerodium Ltd. was created by Ivars Beitāns and his affiliates. In 2006 they gave an excellent performance at the close of the Torino Olypmpic Games. The world was astonished; that was a claim to fame for the vertical wind tunnel industry. Since then the company has been invited to perform at many events all over the world: from the Italian premiere of "Superman Returns" to an international horse racing competition in Dubai.
In addition, an Aerodium vertical wind tunnel was exhibited at the Latvian Pavilion at the World Expo 2010 in Shanghai and was well received by visitors and officials. During the exhibition, the pavilion was attended by more than 1.5 million people.