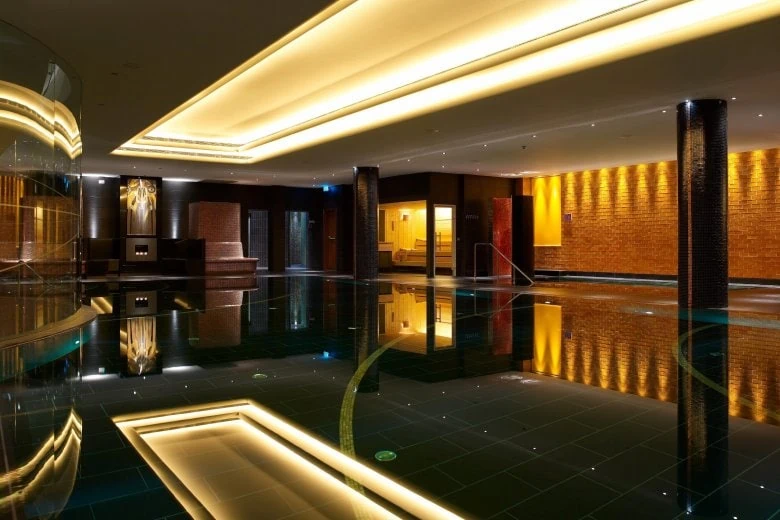 The five star ESPA Riga is located right next to the Radisson Blu Hotel Latvija. The six-floor spa of exquisite interior and design is skillfully created to offer guests and members an unforgettable experience. Top-quality SPA procedures: ESPA is an International Company at the most prestigious level of the Spa industry, genuinely committed to inspired natural products, treatments and spa experiences.
Located in an Art Nouveau building, constructed according to the design of architect Konstantīna Pēkšēns in the late 19th century. Embracing cutting edge design and luxury, ESPA Riga, is an exclusive urban destination spa. Inspired by the opposing elements "Fire & Water" which are illustrated in the evocative, dark colours throughout, the spa features a breathtaking spiral staircase, tiled with a mosaic of black crystal and gold and beautiful lighting sculpture from the renowned designer Eva Menz.
The ground floor holds a stunning 18-metre-long swimming pool with sleek granite pool bar overlooked by a Sanarium & Rock Sauna with full height, glass windows. The first floor has a Spa cafe, manicure and pedicure studios, and a Fitness Studio including state-of-the-art Technogym and Wellness Expert equipment. On the second floor - cloakrooms, on third and fourth floors - treatment and relaxation rooms. The fifth floor features thermal suites with saunas and baths, male and female relaxation rooms and an outdoor vitality pool with the night sky above.
The ESPA brand focuses on enhancing an individual's lifestyle in a way that is both holistic and versatile. Its treatments have been created to unite aromatherapy, thalassotherapy and phytotherapy with the best of ancient and modern healing and relaxation techniques from around the world, yet adapted to local lifestyle, traditions, and mentality.
ESPA has developed a range of treatments designed specifically for the cold Latvian weather, namely, amber crystal treatment, where vital energy points and Chakras are massaged with an individually tailored blend of oils and using the precious Amber stone; individually tailored stress-buster, and a deeply relaxing body massage with self-heating seashell.s
Every four months a new seasonal treatment to discover new experience and every year a new Day SPA offer is designed for you to have a truly wonderful spa journey for a special price. ESPA Riga offers also two different Membership Progammes – Fitness Membership for unlimited access to Active Leisure Area with saunas, pools and the Fitness Studio as well as Spa Treatment Membership. Memberships are available for 3, 6 or 12 months.