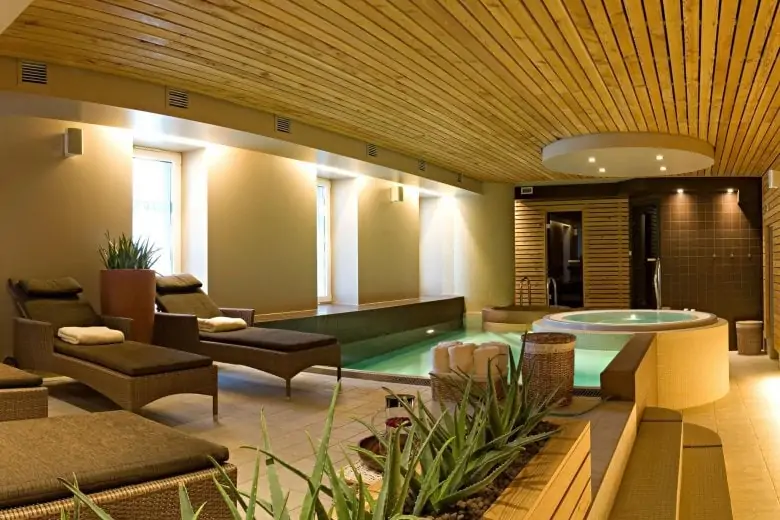 Taka Spa is an exquisite Day Spa with a pleasant and comfortable interior, pleasant atmosphere, personal approach, attentive care and effective treatment tailored for each customer. Taka Spa features three small pools with various temperatures, a Finnish sauna and a steam bath. Afterwards, rest in the Quiet Room with a cup of green tea and hors d'oeuvre.
Taka (Path) always takes us somewhere; it's a walk through a meadow, a forest, riverside, up to the sea... Here you can find peace and clarity, strength and beauty permeate your body; and inspiration fill your soul. Taka Spa believes in the realisation found at the basis of several ancient healing systems: sickness comes about if balance is disturbed in the flow of life-energy. In renewing physical, intellectual, and spiritual harmony, the body is able to heal itself on its own. The methods they use are natural: massages, masks, baths, herbal teas, correct breathing, movements, and meditation. Taka Spa helps actualise this simple wisdom that you must take care of yourself in a timely and regular manner. In addition, you'll find how enjoyable this can be!
Hands-on care with natural products and centuries-old skills from various lands and cultures, combined with the best modern methods. Enjoy our cleansing rituals in Taka Spa's pools and saunas, as well as the strength and growth of movement in the yoga studio; your beauty will be enhanced and your body will be renewed and strengthened in our therapy zone, and the Quiet Room will provide an opportunity for contemplation, which liberates the mind and opens it up to new ideas. Taka Spa's specialists will help you choose the most fitting treatments, designing an individual Spa programme tailor made to suit your needs.
Treatment for Her and Him. The skin is our largest organ, through which our body discharges unwanted substances, or toxins. For this reason, our skin needs regular cleansing, which liquidates the layer of dead skin, cleans the pores, and stimulates circulation, thereby easing the discharge of toxins. Taka Spa rituals encompass a number of treatments in order to help you reach inner balance and the right state for improving your health - to be here and now, to be yourself.
Taka Spa is recommended by New York Times, Le Figaro and other international newspapers.