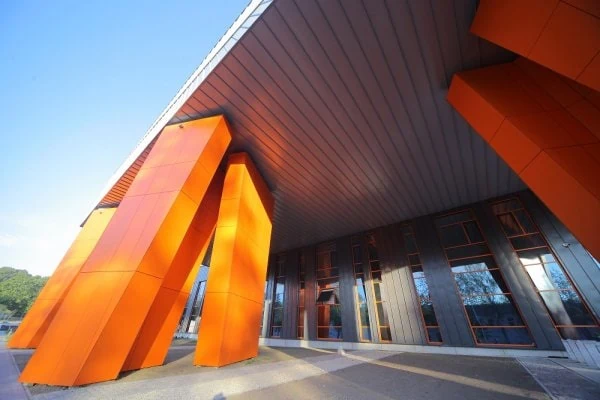 In the result of implementing project 'Construction of the museum storages complex' a modern infrastructure is created for housing and handling the collections of Latvian National History Museum and the Museum of Literature and Music and the foreign art collection and the Latvian art collection of the 1950s to the 21st century of the Latvian National Art Museum.
The infrastructure of the museum storage complex will provide: storing the museum objects, recording and restoring of them, and also use of the collection both by the museum employees and the visitors. In the complex, also displaying of certain collections is planned.
The territory of the object is situated in the monument protection zone, and it is prescribed to facilitate the area by arranging a well-considered pedestrian road and by ensuring the accessibility requirements, a special system of greenery. The building volume creates a united architectural shape without visual separating the zones of each museum.
The Latvian National Museum of Art invites to visit the "Forest of Sculptures", a new permanent display of Antique and Renaissance plaster casts at the Museum Storage Facility in Riga (Pulka iela 8). After almost a decade, copies of world-famous sculptures from the collection of the Foreign Art Department of the Latvian National Museum of Art will be available to the public again.
The new exhibition is a display of copies of artistic masterpieces from the Classical period – Ancient Greece and Ancient Rome – as well as the Renaissance in a contemporary format. The concept created by the exhibition designer, sculptor Gleb Panteleyev, is the 'Forest of Sculptures', in which time and space merge into a single unity, observing the chronology of art history and the principles of collection managament.
The artworks on view, with more than a hundred years history, are copies of world-renowned sculptors, such as Myron's Discobolus, Praxiteles' Hermes and the Infant Dionysus, Athena Giustiniani, Verrocchio's David with the Head of Goliath, Michelangelo's Moses, and it is only part of the sculpture collection of Antique art and the Renaissance era, stored in the Foreign Art Department of the Latvian National Museum of Art (LNMA). The core of the exhibition consists of sculptures commissioned for the Column Hall in the early 20th century by Dr. Wilhelm Neumann (Carl Johann Wilhelm Neumann, 1849–1919), the first director of the LNMA (at that time – the Riga City Art Museum). The display also includes works inherited from the University of Latvia's Art Cabinet and the Courland Provincial Museum. The sculptures were exhibited in Riga Castle, at the former Museum of Foreign Art from the 1950s until 2010. After the fire in Riga Castle in 2013, the sculptures were stored in temporary premises and were not available for public viewing.