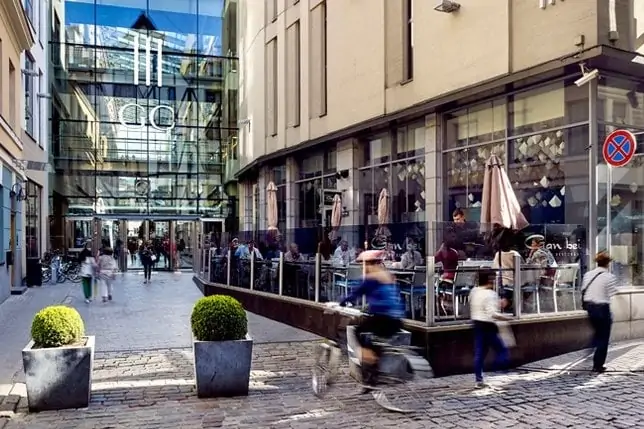 Shopping centre Galerija Centrs, originally — Army Economic Store, but during the Soviet period — Riga Central Department Store, is located in one of the most splendid historic buildings in Riga, a busy retail venue in Old Town since 1938.
After an extensive renovation of the building in 2006, Galerija Centrs incorporates Rīdzenes Street, where exhibitions on various themes are displayed on a regular basis, and there is a permanent exhibition of historical photographs in the stairwell.
The largest area of the first floor at Galerija Centrs is occupied by a supermarket; there are boutiques, restaurants on the second, third, and fourth floors, for instance: Calvin Klein Jeans, Gabor, Gant, G-Star Raw, Karen Millen, List, Marc'O Polo and Tommy Hilfiger, whereas the fifth floor houses a healthcare centre, a beauty salon and a fitness club. In total, there are 140 shops at Galerija Centrs, as well as cafes, restaurants, and service outlets.
Those interested in original clothing and accessories may want to visit the concept shop Taste Latvia, where such Latvian designers and brands are represented as Natālija Jansone, Keita, Baiba Ripa, Alexsander Pavlov, Iveta Vecmane, Taste, More Salt, One Wolf, Zib, Aristocrat Kids, Leny Tomy Factory, Petra, Cinnamons, An&Angel, Feltstyle, Buduart, Purpurs and others.
Souvenirs from Riga and Latvia are sold in the Love Latvia shop, traditional Latvian sweets at Laima, stylish undergarments at Lauma Lingerie and the MÁDARA outlet offers Latvia-made organic cosmetics.