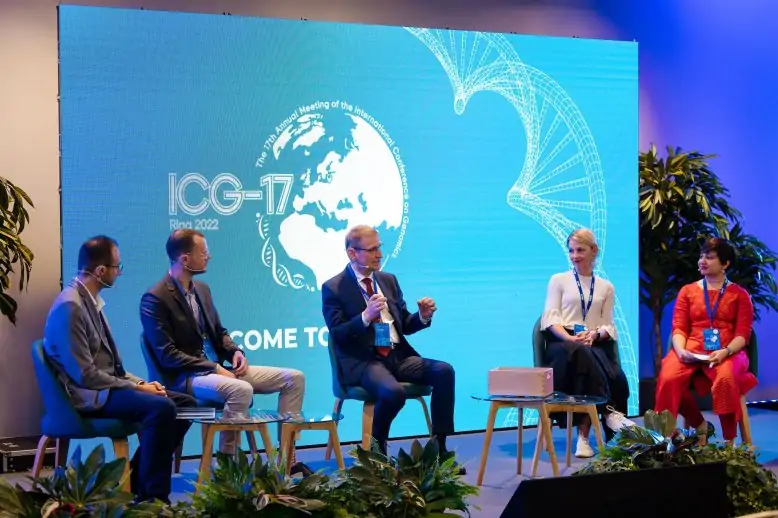 At the International Genomics Conference in Riga, the new genomics leaders share their competence and insights and promote both understanding and cooperation in the field of omics. The conference organized by the biotechnology company MGI and the Latvian Biomedical Research and Study Center in Riga take place from September 7 to 9.
At ICG, scientists focus on "Omics for all". The field of science called omics studies various biology disciplines to determine a set of biological molecules that reflect an organism's structure, functions and dynamics.
Thanks to MGI, the Latvian Biomedical Research and Study Center, and the companies "BGI Research" and "BGI Genomics", experts in Riga are sharing their experience in leading scientific fields. Its scope will cover issues such as multi-omics and microbiome, precision medicine, a multidisciplinary view of COVID-19, the role of biobank and health data in the development of personalized medicine, stereomics, and the role of women in science.
Riga is an important regional hub for the life science industry and many of its sub-sectors, with a large and continuously growing talent pool. We are home to large exporters of pharmaceuticals, chemicals, capable scientific institutions and contract research. Our higher education institutions attract an increasing number of international students in fields such as medicine, biology, chemistry and many more.
Riga is honored to be the hosting city for the International Conference on Genomics (ICG) and having the opportunity to bring together the brightest minds in genetics, molecular biology and related scientific fields from industry, research and academia worldwide, right here in Riga. The conference topics covering genomics, precision medicine, research, rare disease treatment, health data management and many more, are the future of healthcare.

 

Biomedicine, biotech and related life science fields are part of our city's priority sectors for investment attraction; therefore, we are proud to see the increasing presence of companies from these industries here in Riga and events like ICG taking place in our city./Fredis Bikovs, Director of Riga Investment and Tourism Agency
Since 2006, the International Genomics Conference has provided a platform for discussion, innovation and exchanging ideas between Nobel laureates, academics, entrepreneurs and high-level scientists worldwide. Over the past 17 years, the conference has brought together more than 10 thousand face-to-face visitors and 10 million online participants who have actively contributed to the development of the life sciences and technology field.
Photo: Valdis Kauliņš