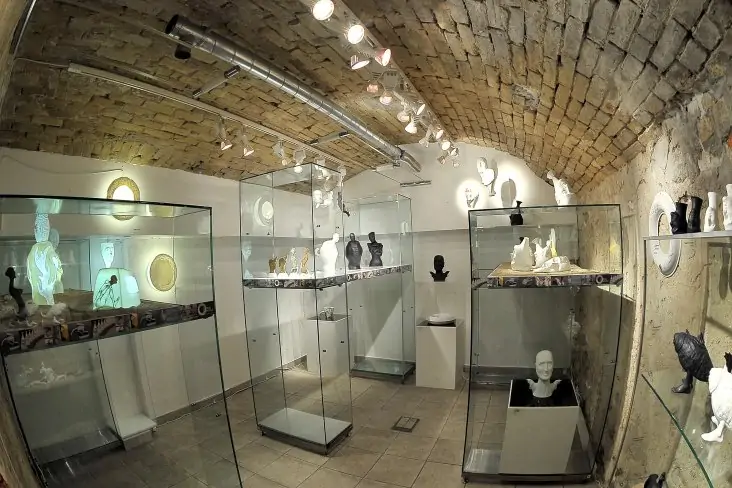 Porcelain - so sophisticated, luxurious and fragile, yet unimaginably different in the hands of inspired artists. The Riga Porcelain Museum unveils the exciting world of porcelain design development and manufacturing traditions from the middle of the 19th century until the 1990s and contemporary processes of porcelain art. The museum's collection consists of almost 8,000 objects.
The exhibition is arranged in several rooms and showcases porcelain that was manufactured at Kuznetsov Factory (founded in 1841) and C.J.Jessen Factory (founded in 1886) and later on - at the Riga Porcelain Factory. Both - mass production and original artwork by individual artists and porcelain painters - are on display here. The oldest exhibits were produced even before World War I. A major part of the exhibition is dedicated to the 1950s-1990s.
The many exhibited articles provide a general overview of the Riga Porcelain Factory's production and various artists' contribution when creating the factory's unique style. A separate room - "the Red Corner" - displays ornamental objects dedicated to important Soviet events - vases, plates, plastics.
Over the course of time, the museum's collection was supplemented by donations from artists and individuals. The Riga Porcelain Museum is also working on its collection of contemporary porcelain. Various exhibitions and events are held here on a regular basis. The museum offers the animated movie "Porcelain!?" with subtitles in five languages - Latvian, Russian, English, German, and Swedish.
There is also a porcelain painting workshop where everyone can paint different porcelain dishes - a unique opportunity to create an original gift! On Fridays and Saturdays you will be assisted by a professional porcelain artist.