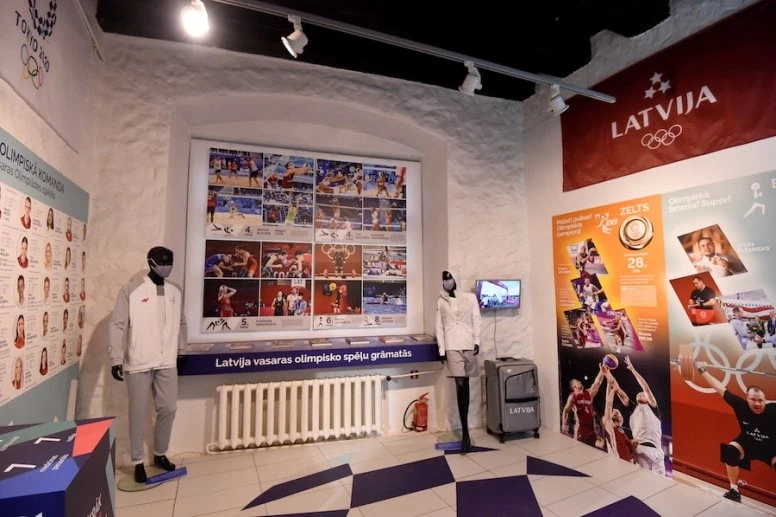 Historic sports equipment and sportswear, photographs from a variety of sporting events - the Latvian Sports Museum offers extensive information on the greatest personalities in Latvian sports and the history of sports in Latvia, spanning several centuries.
Latvian Sports Museum is located in an ancient building in Riga's Old Town, the first collection of museum exhibits was provided by Voldemārs Šimdbergs who bequeathed around 10,000 unique historic items to the museum.
The museum's exhibition includes various medals, cups, prizes, lapel pins, documents, photographs, posters, sport equipment and sportswear, audio and video materials and periodicals dating back to the second half of the 19th century until today. While in the museum, note the medals awarded to cyclists and track and field athletes at the turn of the 19th century - they may well be considered works of art! On the other hand, the sports equipment and sportswear offer a look back on not just the history of sports but also the history of fashion, telling the visitors about the evolution of sportswear.
The museum also houses a library that includes books and materials on sports statistics, sport education, history of various sports, biographies, chess and draughts.
Museum visitors can also have a shot at some of the sports: those who feel physically fit may try a cliff wall, whilst others can play a board game.
One of the aspects of the museum's work is the creation of photography exhibitions about sports, the museum also organises thematic events on key sporting events and the most outstanding athletes who have made a profound contribution to the history of Latvian sports.