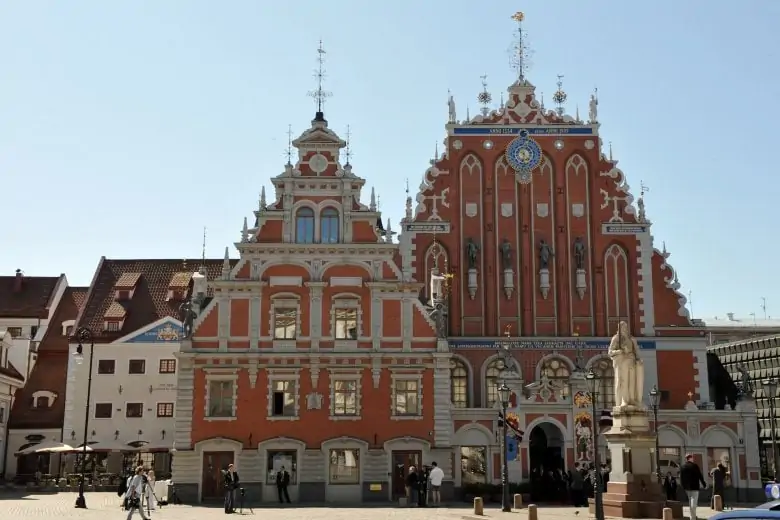 The House of the Blackheads has for almost 700 years been delighting Riga residents and guests. This is one of the most colorful buildings in Riga, which contains a very unique historical legacy about the legendary brotherhood of the Blackheads, as well as the history of the Latvian capital. The House of the Blackheads, originally called the New House, was built in 1334. It has been reconstructed several times from 1522, when stones where set next to the doors, to the late-19th century, when lion figures where set above the front doors and St. George's figure appeared in the annex.
The building was constructed in 1334 as a part of Riga's Town Hall Square ensemble. Historically, the building's function was to promote business activities in the city – it was a place for gathering of traders and shippers for many centuries. It was the building which basically maintained the city's economic lifeline, as well as trade links with partners in the West and the East.
The soul of the House of the Blackheads was its active and joyful "blackheads", who, as young and unmarried traders, were known for their temperament and enthusiasm for the organization of various celebrations and events. Their enthusiasm transformed this building into one of the main cultural venues in the city, which set the pulse of Riga's societal scene. The House of the Blackheads was the cultural epicenter of Riga for centuries, as the blackheads and their successors always gathered the cream of the crop of Riga's societal scene at their events.
This building, located in the heart of Old Town Riga, is one of the city's calling cards and central representational venues – as it recently served as the president's temporary residence while Riga Castle was undergoing renovation works! Also today, the building offers one of the most magnificent premises to organize events, concerts, celebratory dinners, receptions, conferences or other cultural events in the city. Any event organized in the regal premises of the House of the Blackheads is an unforgettable one, as it includes the building's special aura and mysterious success of the blackheads.
The House of the Blackheads is open to the public from Tuesdays to Sundays between 11:00 a.m. to 6:00 p.m., with the final visitors being allowed to access to building until 5:00 p.m. Guests will be able to find out about the building's history and try out first-hand some fun and interesting activities. The building's museum exhibition allows visitors to visit its historical basements, which are originally dated from the 14th century, its magnificent collection of silver, which was once the largest in the Baltics, as well as absorb the splendid atmosphere of the building's Celebration Hall!
We invite all to get acquainted with one of Riga's main landmarks – the House of the Blackheads!