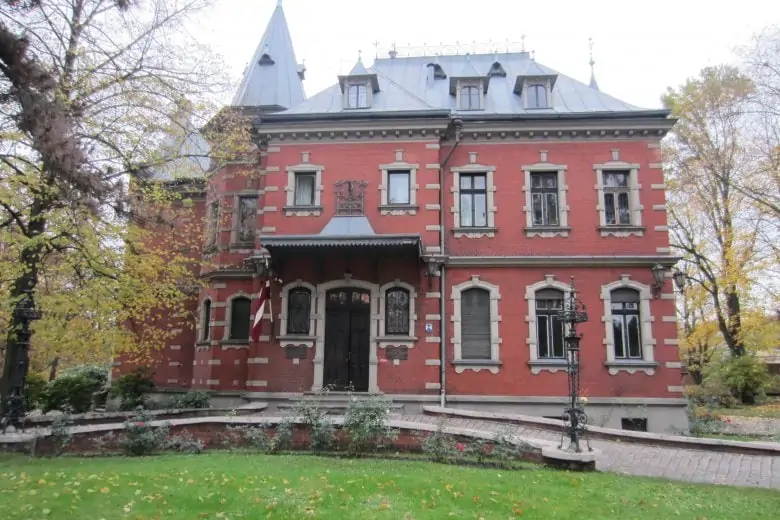 "Dauderi" house, which belongs to the National History Museum of Latvia, is located in one of Rīga's neighbourhoods - Sarkandaugava. It was opened in 1990 and is the only museum in this area.
"Dauderi" has long and interesting history. The museum was built in 1898 and was a family mansion of Adolf von Bingner, the owner of "Waldschlössen" brewery. Its peculiar red brick building is of pronounced Eclecticism with German Neo-Romantic influences - small towers and columns. "Dauderi" will immediately attract your attention. The museum's park with a pond and artificial castle ruins was designed by Rīga's then-main garden architect Georg Kuphaldt.
Later on, the mansion belonged to the Latvian Credit Bank and was given to Kārlis Ulmanis, who was the President of Latvia at that time, as his summer residence. In Soviet times, until 1988, the building housed a kindergarten, "Kaija" fish processing facility and a tasting hall. Even though the mansion was neglected, it was not ravaged and managed to keep its fireplaces, wooden panels, ceiling paintings and vast garden.
Therefore it was decided that the mansion will become home to the voluminous collection of Latvian exile Gaidis Graudiņš. The collection, Graudinš' gift to the Latvian state, consists of numismatics, faleristics, military uniforms and their accessories, chains of office of various judges and mayors, brooches and folk costumes, art pieces, books, magazines, etc. The museum offers an interesting and wide exhibition of historical evidence from the first period of Latvia's independence and cultural activities of Latvian exiles.