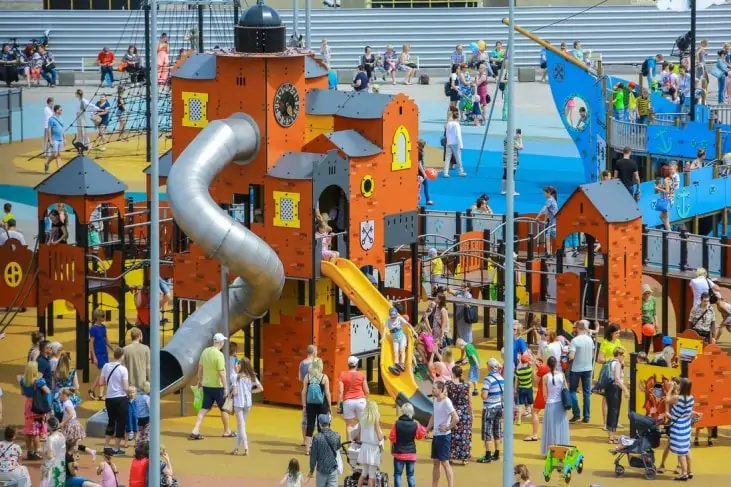 The 7,000 square meters large playground is the largest in Riga and is meant both for preschoolers and older kids.
The visual design of the playground is based on symbols and history of Riga City. The blue colors used on the cobblestones and rubber surfacing symbolize the River Daugava visually dividing the playground. It also has an island with a vertical element for climbing - a pyramid - and a docked ship. On one bank of the River Daugava there is a stylized Old City with its characteristic elements - a replica of Riga Cathedral's clock, the black cat, church spires of Old Riga, as well as bridges featuring the city's heraldry. In this part of the playground, kids of the preschool age and elementary school students will be able to run, exercise and engage in various role games, using specially designed game elements. Like every old city, this, too, will be guarding its secrets, while the little explorers will be provided with special leads helping them to solve the mysteries.
The kids will be able to cross the Daugava using either two ropeways or a pedestrians' bridge to reach the green Pārdaugava with its tall towers and attractions for bigger children. Playing there will be not only exciting and fun, but will also promote the kids' physical development.
Both banks of the Daugava will be visually connected by a "telephone line" which the kids will be able to use to communicate across the river. Additionally, benches will be placed all over the playground for parents to sit on and a fountain at the end of the stream will provide a source of fresh water for quenching thirst on hot summer days.