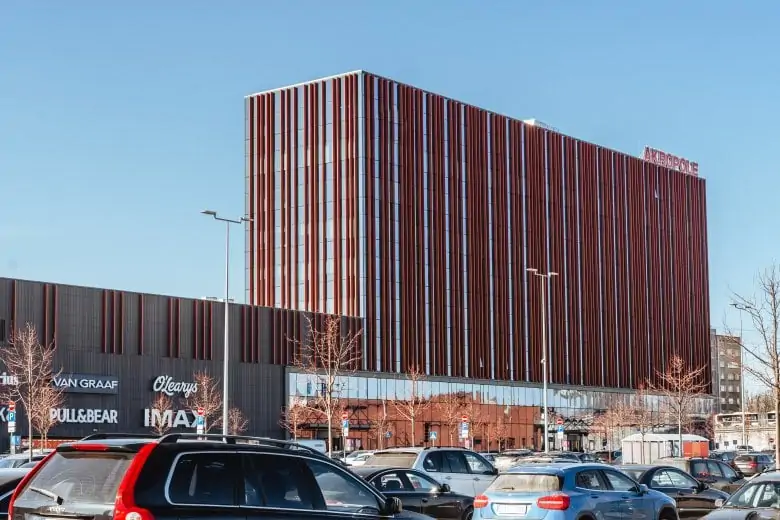 "AKROPOLE Riga" is one of the most modern shopping and entertainment centres in the Baltics, offering its visitors a modern shopping experience and exciting leisure and entertainment opportunities. "AKROPOLE Riga" diverse offer includes almost 170 shops, restaurants, cafes, services and entertainment venues to suit all tastes.
"AKROPOLE Riga" has a unique history on the map of Riga's shopping centres, named "Kuznetsov's Legacy", because the shopping centre has been built at The Kuznecov Porcelain and Faience Factory location, as the shopping and entertainment centre says, "The factory, that was founded in 1841, was one of the largest factories in the city. The items produced at the Kuznecov factory were prized by city residents, becoming an important part of the cultural heritage in almost every family, for generations."
Taking into account the historically significant location of the shopping centre at the former Kuznecov Porcelain and Faience Factory site, the historic industrial heritage of the site has been preserved and important elements from the former Kuznetsov factory have been integrated into the building's design.
"AKROPOLE Riga" is the most modern shopping and entertainment centre in Baltics with a wide range of tenants for all tastes and different needs of life. The only multi-brand store in Latvia "Van Graaf", sports and lifestyle stores "Ballzy Ice", "USC" and "adidas Originals" operate here.
"AKROPOLE Riga" can be found the largest stores of the brands "Zara", "Reserved", "Deichmann", "Oysho", "Guess" and "KidzOne" in Latvia. The wide range of shops is complemented by restaurants and cafes for different tastes – "CHI Asian Food", "Grill London", "Burger King", "Čili Pizza", "GanBei", "McDonald's" and many others, as well as "Maxima XXX" hypermarket and a modern "LemonGym" fitness hall.
Entertainment enthusiasts will enjoy "Apollo Kino" cinema with nine auditoriums including the only IMAX cinema in Latvia. The cinema is equipped with the latest and highest quality sound and image technology. It offers its audience special ergonomic seating and a modern snack and beverage experience right in the cinema.
Visitors will also enjoy "O'Learys" entertainment centre with bowling, billiards and virtual reality simulators, a children's indoor sports and entertainment club "MaryMaris" and an all-season ice skating rink.
How to get to "AKROPOLE Riga":
By tram No. 7 (stop SOUTHERN BRIDGE)
By trolleybus No. 15 (stop KUZŅECOVS)
By bus No. 15 (stop SOUTHERN BRIDGE)
By bus No. 18 (stop KUZŅECOVS)
By bus No. 31 (stop SOUTHERN BRIDGE)
By bus No. 49 (stop SOUTHERN BRIDGE)
By bus No. 60 (stop SOUTHERN BRIDGE)