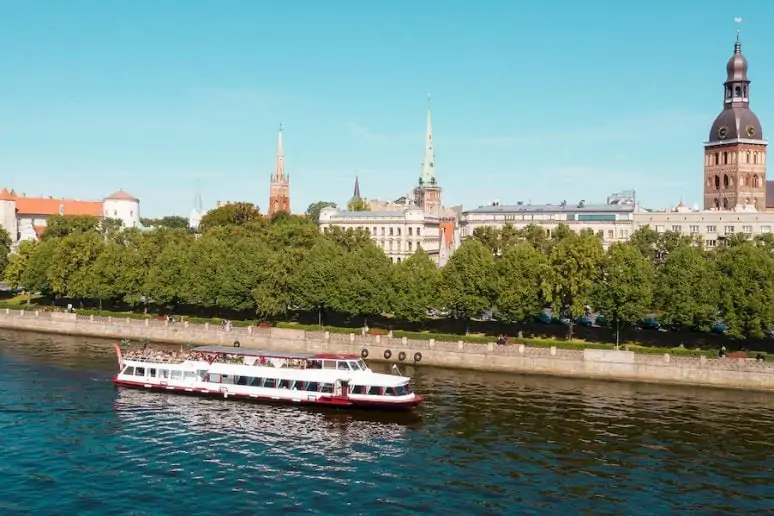 River Boat "Vecrīga" ("Old Town") – a modern and popular passenger boat – offers 1-hour tour along the River Daugava – "Riga Panoramic Tour".
During the journey along the Old Town, you will enjoy a great view of the Old Town with its towers, the Riga Castle, the National Library, the Riga Passenger Port, and the TV Tower in the Hare Island (Zaķusala).
The "Old Town" is the only boat that offers "Sunset Tours" to the Sea Gate, where the River Daugava meets the Baltic Sea. The tour is 2.5 hours long and during the tour you will enjoy the view of the Riga Passenger Port, the Freeport building, the Ķīpsala island, the Andrew Island (Andrejsala), as well as Kundziņsala, Mangaļsala, Bolderāja and, of course, the Sea Gate.
The upper/open deck of the boat is decorated in a tropical atmosphere, and during the journey, each visitor will be able to enjoy the sun and, on the hottest summer days, the cooling wind while sipping delicious cocktails from the bar. A modern passenger lounge with panoramic windows, soft sofas, and a bar/café is located on the lower deck.
The recreational boat "Old Town" is equipped with a free Wi-Fi, a play area for children, a kitchen where you can order delicious foods or snack plates, and two WCs with all amenities. The boat can accommodate 150 passengers at one time.