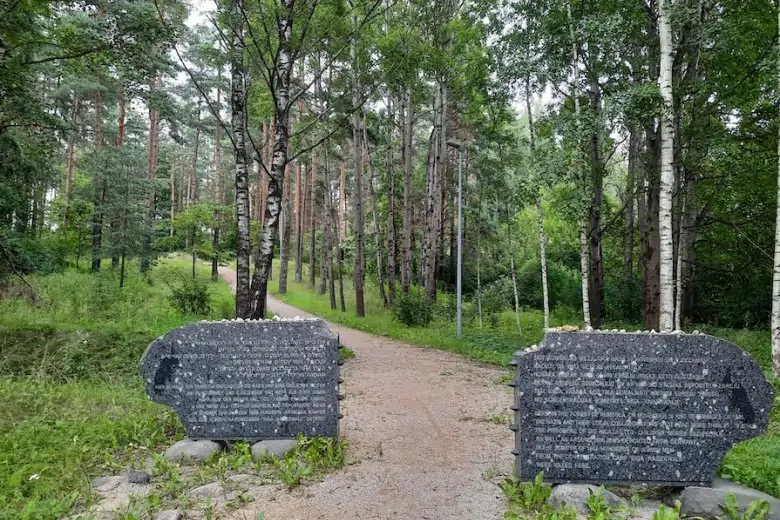 Rumbula is one of the largest holocaust sites in Europe.
Based on a design project by architect Sergejs Rižs, the memorial ensemble was opened on 29 November 2002. The ensemble was funded by donations from Latvian, Israel, USA, and German institutions and organisations, and private persons. On the way to the memorial aside the road, you can see a metal construction symbolising the Nazis.
Next to the road there is a stone explaining that this was the road to death for thousands of Jews. This monument was built at expenses of the former ghetto prisoner Boriss Kliots, whose parents and sisters were killed at Rumbula.
At the entrance, several stone plates tell the story of the Rumbula tragedy and establishment of the memorial in Latvian, English, German, and Hebrew. The path leads to the central part of the memorial, which is shaped in the form of the Star of David with a menorah (Jewish candlestick) above it. The menorah is surrounded by uncut stones where names of slaughtered Jews are engraved. Several cobblestones bear the names of Riga's ghetto streets. There are also several mass graves in the territory of the memorial, which are marked with concrete borders.
To get to the Holocaust Memorial in Rumbula, take bus No. 18 up to stop "Rumbula".
Walk some meters back until you see huge metal half-gate on the side of the street. Further go along the road until you reach a metal wall on which there are inscriptions in 4 languages, and then go inside the memorial.