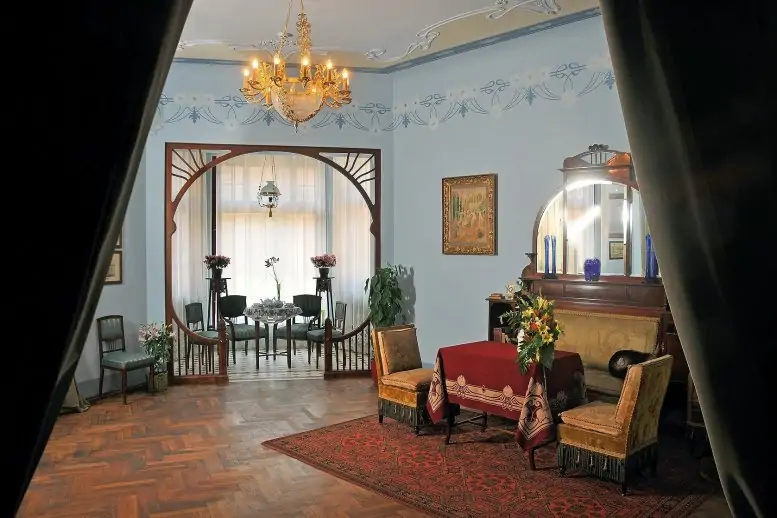 Rīga is one of the few European cities where Art Nouveau architecture, art and design objects have survived in great numbers. It is even called "the metropolis of Art Nouveau". There are 800 Art Nouveau buildings in Rīga, mostly located in the city's centre - particularly on Alberta Street. Riga Art Nouveau Centre can also be found on this street, in the former apartment of the renowned Latvian architect Konstantīns Pēkšēns, who lived and worked here till 1907 and designed this beautiful building.
Before the museum's unveiling, the apartment was thoroughly studied, revealing and establishing its initial interior design. Renovations were conducted from 2008 to 2009, restoring the exact interior of 1903. The museum will make you feel that you are traveling through time. Behold - the sitting room, where its inhabitants welcome guests, discuss opera performances and the latest fashion in Paris. The fireplace den is located in the apartment's representational wing, a place for sipping wine by the fire.
The dining room is the most luxurious room in the apartment. It is a place for dinner with friends and everyday family meals. Meanwhile, transactions are discussed in the office. The lively activity in the kitchen never stops. It houses several innovations of that time - a fridge, a modern stove and a cast iron sink with a water faucet. Various pots, ladles, graters and frying pans hang on polished brass hooks above the stove. The modest maid's room is next to the kitchen.
More intimate rooms are on display here as well. There is a bedroom, decorated with the popular rose motif, a well-equipped toilet and a bathroom with an enameled tub on lion's paws - an integral part of modern apartments of that time. All rooms contain authentic Art Nouveau artifacts.
You are invited to enter into the spirit of the era by wearing characteristic hats for men and women and taking pictures of yourself. If you wish to preserve the memory of your visit to the Art Nouveau era, the museum offers you to take pictures and buy various souvenirs.