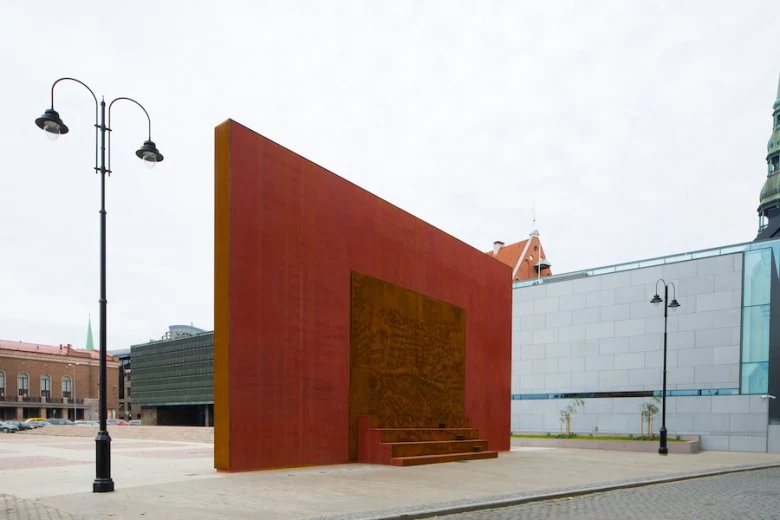 The memorial is a symbolic confirmation of the connection between today and the tragedy in the history of Latvia, when the Soviet regime deported several tens of thousands of Latvian citizens. The memorial is equipped with special audio-visual equipment that creates emotional sound and vibration effects daily, fitting into the environment of the city of Riga.
The facade on the side of the Latvian Riflemen's Square has a pattern of the Latvian blanket. It is made of red and white granite slab elements glued together in blocks, which are attached to the wall, thus, visually creating the impression of a tick pattern. In the central part of the memorial, there is a wagon made of stainless steel. Inside the wagon, there is a metal ladder with a written literary message on the front edge of the upper step. The side of the memorial square is dedicated to official gatherings, where flowers can be placed during official visits.
On the side of the memorial, on Grēcinieku Street, a Wailing Wall is depicted with a large reproduction of the persecuted Mērija Stakle's handkerchief in the centre. The original handkerchief can be seen in the exposition of the Museum of the Occupation of Latvia (LOM). The Wall of the object is made of cast-in-situ tinted red concrete, which is complemented by relief, to create a natural weather stain on the wall because of climatic conditions. The handkerchief in the centre of the Wall is made of metal plates, on the surfaces of which fragments with words are welded, depicting the embroidery of the original handkerchief. On this side, the memorial has a more personal and intimate atmosphere, where the visitor is free to choose where to place flowers or light a candle. The story of M. Stakle's handkerchief can be found on the LOM website here.
The memorial "Historical Tactile forms a unified architectural ensemble together with the expansion of the Museum of the Occupation of Latvia – "House of the Future designed by the outstanding Latvian architect Gunārs Birkerts, which preserves his architectural idea, as in 2001, G. Birkerts donated the sketches of the reconstruction of the Museum of the Occupation. The idea was implemented in such a way that the building (built in 1970) was expanded with a white extension and a glass wall, and the museum was given modern functionality.
The authors of the memorial are Kristaps Ģelzis, Ilze Miķelsone, Voldemārs Johansons. The sound solutions of the memorial were created by the artist Voldemārs Johansons; the names and surnames of the victims of repression are synthesised with the help of Tilde AI technology.