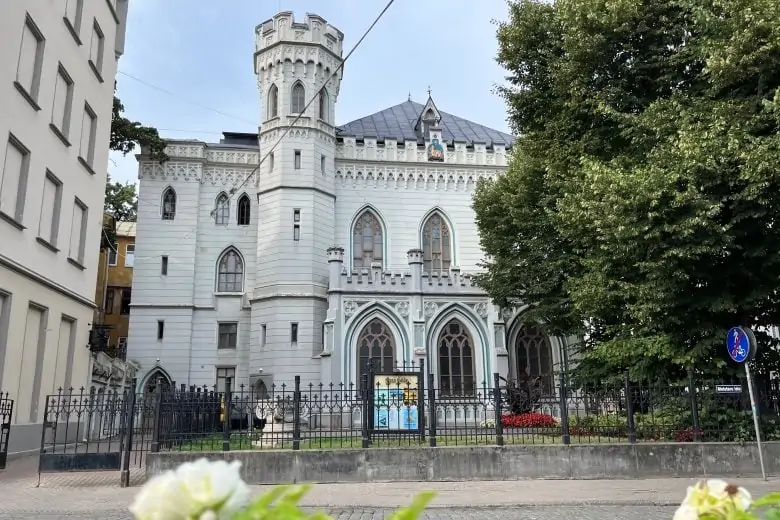 The Old Town's Small Guild is used for concerts, conferences, presentations, meetings, celebratory gatherings and balls.
Riga Small Guild or the Guild of St. John (Die Kleine Gilde zu Riga, Sankt-Johannis-Gilde) was a fraternity of master craftsmen that existed from 1352 to 1936, when the Chamber of Crafts was founded.
The interior of the Small Guild is noteworthy and abundant. The hall, lobby and staircase floors are lined with terrazzo mosaics. All windows of the house have artistic colourful stained glass, specifically made and ordered from Hanover. Pointed tree fringes of the door and window boxes are embellished with painted instructive aphorisms and sayings in Gothic letters.
The Small Guild existed alongside the Great Guild Hall, or the St. Mary's Guild (located right opposite the Small Guild), which joined together the Riga merchants, and later also writers.
Renovation and restoration of the Small Guild was carried out from 1999 to 2000. The entire finish of the Small Guild was restored according to the documents and photographs of the 19th century.
Today, the Small Guild is used for festive events, business meetings, conferences, presentations, balls and concerts.
The old craftsmen house now operates as a cultural and folk art centre, which is inhabited by a variety of cultural organisations – children's, youth and senior amateur groups, vocal ensembles, popular applied arts and fine arts studios, amateur theatres, instrumental bands and a folklore group.