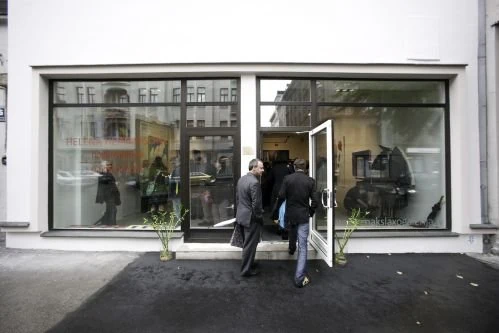 The gallery's basic mission is based on the idea of finding its special place and meaning in the international art world by offering a powerful, creative and many-sided modern and contemporary art generation. Since 1999 the Māksla XO gallery has developed a well thought out programme of exhibitions that includes solo exhibitions by the artists represented by the gallery and annual gallery projects - group shows.
The Māksla XO gallery represents some of the most important artists in contemporary Latvian art whose styles have become their "trademarks" not only in the Latvian art context but also in international projects - Helena Heinrihsone, Ivars Heinrihsons, Ieva Iltnere, Franceska Kirke, Guntars Sietins, Kristaps Zarins, Kristaps Gelzis, Dzemma Skulme, Vilis Ozols, Edvards Grube, Tatjana Krivenkova, Kaspars Zarins, Vija Zarina and others.
Through careful evaluation of the tendencies in Latvian contemporary art, the gallery also represents the youngest generation of Latvian artists whose highly distinctive artistic vision reveals their sense of the age - Kaspars Podnieks, Otto Zitmanis, Harijs Brants, Jana Brike, Anna Heinrihsone, Vineta Kaulaca, Kristina Keire, Neonilla Medvedeva, Ginters Krumholcs.
The gallery is involved in local and foreign art projects, and in cooperation with foreign art museums, organises exhibits and other more large-scale ventures.