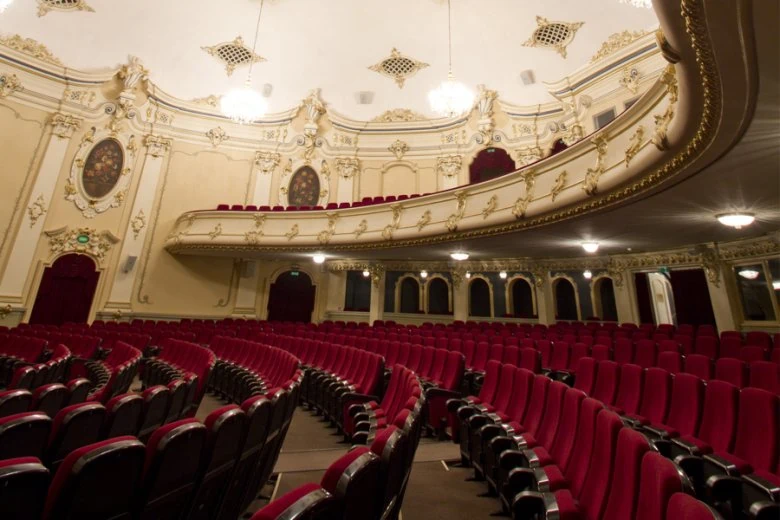 Cinema "Splendid Palace" features auteur, art house films, festival favourites from Europe and other world regions.
Cinema "Splendid Palace" (renamed from "Kino Rīga" in September 2011) is located in a unique building at 61 Elizabetes iela; the cinema has won many filmgoers' hearts since opening in 1923. "Splendid Palace" was the first cinema in the Baltics to screen sound films.
Today, visitors can enjoy watching films in an architectural monument of national importance - it is the first ferro concrete building in Riga, designed by architect Frīdrihs Skujiņš. The building was designed in Rococo style, which makes every visit to the cinema a memorable event. Visitors are also recommended to have a close look at wall and ceiling paintings by Hermanis Grīnbergs and sculptures by Rihards Maurs and Jēkabs Legzdiņš.
The cinema offers films from various film festival programmes, as well as special film days and - in co-operation with foreign embassies and culture centres - retrospectives of notable film classics' works. The film programme "Berliniale", Nordic, Italian, Korean, Norwegian, Kazakh, and Japanese film days are just a few of the events organized at the cinema. "Splendid Palace" also houses regular film club screenings.
The cinema offers live broadcasts of concerts and opera and ballet performances, as well as recordings from the world's best opera houses and festivals, such as La Scala, Liceu, Salzburg Festival and other cultural events - concerts, theatre performances and exhibitions. In the future, the cinema plans to organise more educational programmes targeted at younger audiences.
On the excursion get to know the historical nuances and unusual Neo-Baroque premises that accommodate legends and exciting historical events. Information about excursions
Register and get more information via e-mail: splendid@riga.lv or via phone: (+371) 67043678.