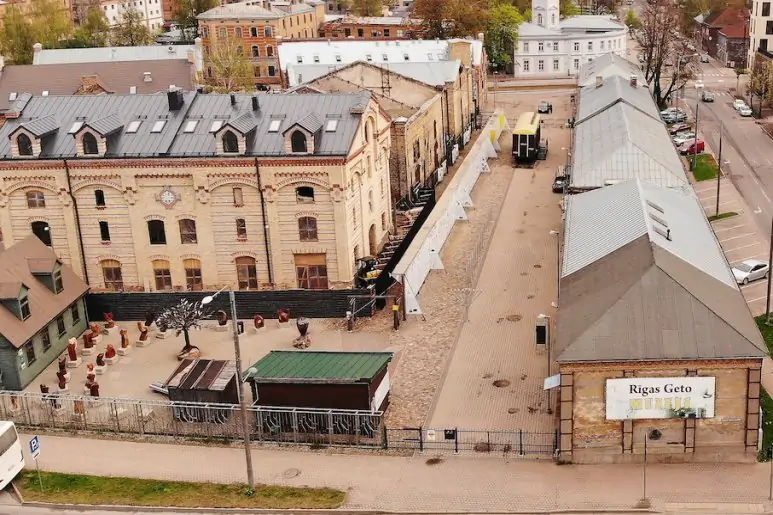 The Riga Ghetto Museum opened its doors in 2010. It is located close to the border of the former Jewish Ghetto, in Maskavas Forštate (Moscow suburb), a historical city quarter. Once inhabited by Russian merchants and Jews, the quarter has small wooden houses with aged but still elegant wooden carvings, paved winding streets and a unique aura. Many people come here nowadays to look for the places where their ancestors had once lived. The territory of the Riga Ghetto is unique, having barely changed in the last sixty years.
The museum building dates from the second half of the 19th century. Before the war, it hosted warehouses and stables. In the territory of the museum, the land is lined with stones from the streets of the Ghetto. A memorial wall carries over 70,000 names of Latvian Jews who fell victims to the Holocaust and about 25,000 names of Jews from other European countries who were brought to Riga to be murdered.
The museum has several permanent exhibitions. They tell not only about the tragedy of Latvian Jews during the World War II, but also about their lives in pre-war years, their religious traditions, their contribution to the fighting for Latvian independence, their role in education and culture. The territory of the museum also has several memorial objects.
The Museum of the Riga Ghetto and Holocaust in Latvia was established by the Shamir religious community with the assistance of the Riga City Council. This place is conceived not only as a reminder of terrible events that should never happen again but also as an educational and cultural centre, a source of tolerance and mutual respect. This is not a museum of death. This is a museum of life.