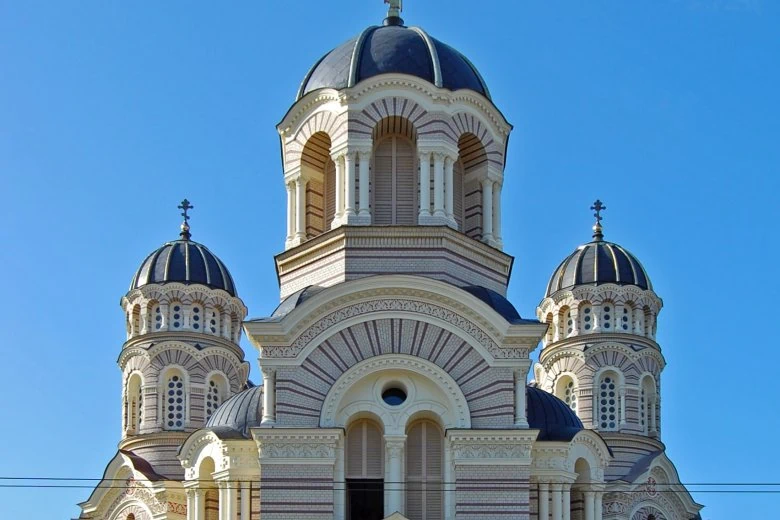 Riga's Nativity of Christ Cathedral is the biggest Orthodox church in the city. Having served as a planetarium and a restaurant during the Soviet Era, the building has been completely restored as a church and holds regular Orthodox services.
Nativity of Christ Cathedral, as a symbol of architecture and stability, is often visited by the highest representatives of foreign countries, and all those who seek solace and sanctuary.
The founding stone was laid on 3 July 1876 by Riga Bishop Serafim (Protopov). The initial design did not feature a separate belfry but as the Russian Czar Alexander II presented a surprise gift (12 bells) the design was improved with one more dome for bells.
The official opening took place on 28 October 1884. The pre-World War I period saw about one-and-a-half thousand worshipers. The neo-Byzantine style building was the most expensive edifice of that time in Riga, its interior was uniquely rich and of high artistic value. The cathedral was renowned for its outstanding collection of ancient and valuable icons, three iconostasis painted by the brightest pedagogues of St Petersburg Academy of Art and the famous Russian painter Vasily Vereshchagin, the clergymen outfits made by the best St Petersburg seamstresses, and Byzantine-style frescoes with Orthodox Christian ornamentation.
Although the cathedral had survived both world wars, in the early 1960s, Soviet authorities closed the cathedral, sawn down the crucifixes, and re-melted the bells, and converted it into a planetarium, called the Republic House of Knowledge.
The restoration began in the late 1990s with, and the iconostasis was consecrated by Archbishop Alexander on 6 May 2000. The renovation is still ongoing, financed by public donations through the project 'Svet'.