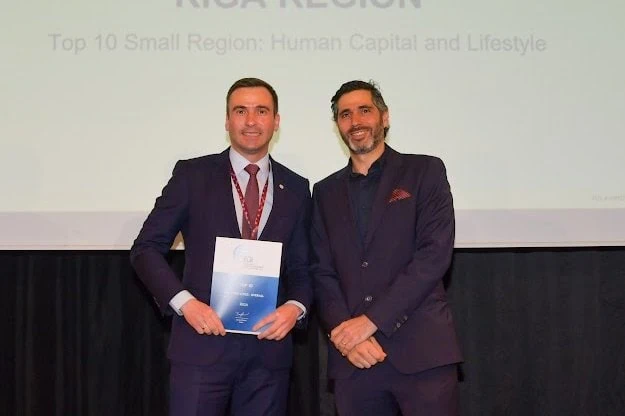 Riga has been recognized as an excellent place for investment, entering the "fDi Intelligence" Top 10 medium-sized city category for promoting investment and research worldwide.
Furthermore, Riga and the Riga region have received three "European Cities and Regions of the Future" awards at the international real estate and investment forum "MIPIM" held annually in Cannes, France. This is the highest historical rating of the Latvian capital. In addition, Riga has entered the Top 10 "Medium-sized European Cities of the Future" category in the overall city evaluation category and in the "Best City for Human Capital and Lifestyle" nomination. In this nomination, the Riga region, a small-sized city region, has also entered the Top 10.
The Mayor of the Riga City Council, Martins Stakis, notes:
The awards received from fDi Intelligence indicate that the Baltic and Central European regions are currently considered very promising for investment. The fact that Riga and the Riga region have won three awards and have entered the top cities of the future shows that our targeted work in attracting investment and creating investment-friendly environments has been noticed and appreciated. It also means that investors' interest in our city and country is only increasing, which is also evidenced by the participation of the Riga City Council in the "MIPIM" forum, where the Riga stand is highly visited.
The Riga Investment and Tourism Agency, the Mayor of the Riga City Council, Martins Stakis, and several partners from the state and private sectors are participating in the real estate and investment forum "MIPIM" from March 15 to 18 this year. The Riga City Council has been represented at this event for 21 years, demonstrating the city's economic stability in one of the world's most significant investment and real estate forums, which brings together more than 20,000 participants from 75 countries.
The forum encourages discussions and brings together entrepreneurs, investors, corporations, state and municipal institutions, hospitality industry representatives, industry and logistics players, and real estate professionals.
More information, Rita Pētersone, Riga Investment and Tourism Agency, Head of International Marketing Department