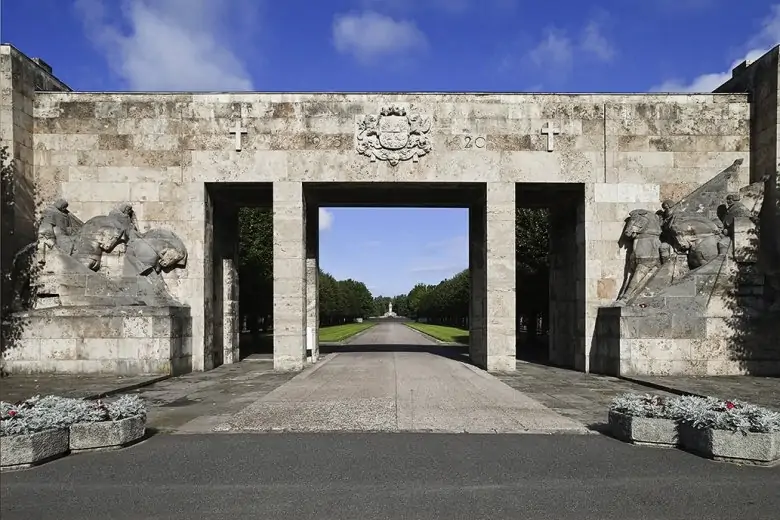 Riga Brethren Cemetery is Latvia's largest memorial ensemble dedicated to about 2,000 Latvian soldiers (among them also about 200 unknown) who were killed between 1915 and 1920 in World War I and the Latvian War of Independence.
Riga Brethren Cemetery covers an area of 9 hectares in northeastern Riga, 5 kilometers from the city centre. It was built as an integrated combination of sculpture and landscaping between 1915 and 1936, to designs by sculptor Kārlis Zāle. The idea and design of the memorial is the pride of the Latvian nation. This was the first memorial ensemble of its kind in Europe.
The memorial features three parts: the 205-meter-long Road of Contemplation, leading through an avenue of linden trees; the Terrace of Heroes, encircled by an oak grove and an altar of eternal fire; and the Graveyard, with the sculpture of Mother Latvia and her fallen sons on the other end.
The memorial expresses national gratitude to the fallen heroes through cultural references to the Latvian nation: linden trees, oak trees, birch, briar-rose, and other trees, sculptures of Latvian soldiers and heraldry displaying Latvian historic provinces Kurzeme, Zemgale, Vidzeme and Latgale, 19 districts and 59 towns. An urn with 517 handfuls of ground from all Latvian counties is dug under Mother Latvia.
Riga Brethren Cemetery has 13 sculptural groups. On either side of the entrance is a group representing a pair of dying ancient Latvian horsemen. Above them there are the Latvian coat of arms, two crosses and engraved numbers 1915-1920 (destroyed during the Soviet period). The riders and horses in the right-hand sculptural group have straight stances; one of the horses has its head thrown back, and upward movement dominates. This is in contrast to the left-hand group, which is dominated by downward movement as expressed through the bowed heads of the riders and horses. Two Brothers stand in the central greenery, with the grave of Kārlis Zāle right at their feet. The most adorned Wall of Latvia at the other end of the cemetery features four sculptures of men on their knees. These are symbolic Latvian provinces. A scene of a Fight is above them and the sculpture of Mother Latvia expressing sorrow and gratitude to the lost heroes in the very centre. A large cross is located underneath (destroyed during the Soviet period). The unfinished Gate of Riflemen features the sculpture Ancestors.