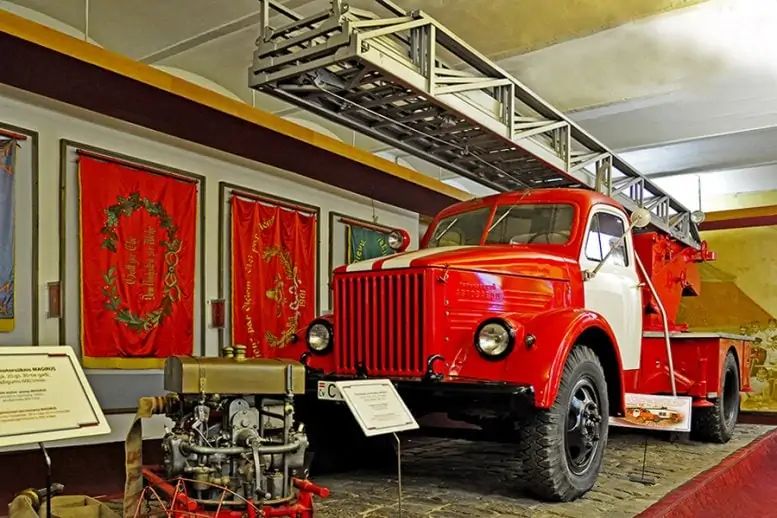 Fire-fighters have always been surrounded by a special aura – simple heroism and human selflessness. Their equipment – huge fire trucks, pumps, ladders, bright helmets – makes children's eyes glow. The Latvian Fire Fighting Museum offers not only to take a look at all these items and vehicles, but also to try them out.
The museum's exhibition introduces visitors to the history of Latvian Fire Fighting from the middle of the 19th century until nowadays. The first floor features fire-fighters' uniforms, helmets, tools, awards, manual and mechanical pumps of the end of the 19th century and the beginning of the 20th century, as well as "Chevrolet Six" fire vehicle.
The exhibits on the second floor allow tracking down fire fighting developments from the 1940s until nowadays and become familiar with fire alarms, fire fighting devices, suits and equipment. You will be informed about the most devastating, recent fires and other disasters. The museum's hall of fame can also be found here.
The museum not only shows the legacy of Latvian fire fighting, but also provides basic knowledge about fire safety regulations and actions in case of disaster. You are invited to learn how to put out a fire, participate in quizzes, lectures and watch documentaries.
The Latvian Fire Fighting Museum is located in an interesting building with an old, Baroque-style watchtower that was used to dry fire-hoses. This Art Nouveau building was built in 1912 and is an architectural monument. It was designed by Riga's main architect, Baltic German academician Reinhold Schmaeling (1840–1917).