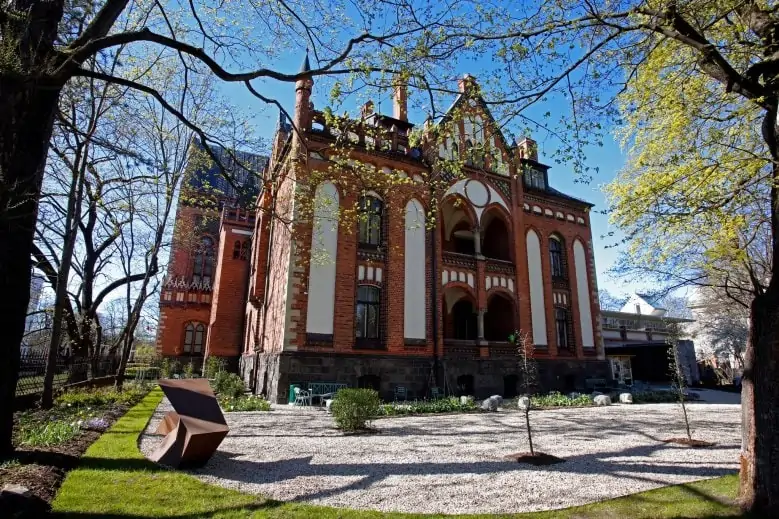 The building of the Art Academy of Latvia is one of the most notable architectural and cultural monuments located in the historic centre of Riga.
The construction of the building began at the end of the 19th century when the Riga Stock Exchange Committee allotted a hefty amount of money for the construction of the Commerce School of the Riga Stock Exchange. The Commerce School opened in 1905 and occupied the building until 1915.
Later the building housed the Riga City German Gymnasium and Vilis Olavs Commerce School. On October 7, 1940 the building became home to the Art Academy of Latvia, and remains so today.
The red-brick building was designed by architect Wilhelm Ludwig Nikolai Bokcslaff (1858–1945). The facade of the building was to symbolise historic commercial ties and to serve as a reminder of Riga as a Hanseatic League city. Neo-Gothic style, popular in Europe at the turn of the century, matched the concept best.
The building's interior design is equally splendid: the most noteworthy objects include Art Noveau stained glass artwork made in Ernst Friedrich Tode (1852–1932) workshop and sculptural decorations by August Volz (1851–1926).
The Latvian Academy of Art is an accredited school of higher learning with Bachelor, Master's and Doctor's degree programs.
Studies at the Latvian Academy of Art combine traditional higher educational principles with appropriate conditions for developing creativity in visual and plastic arts and basic principles for developing visual arts, design and art history as separate disciplines.