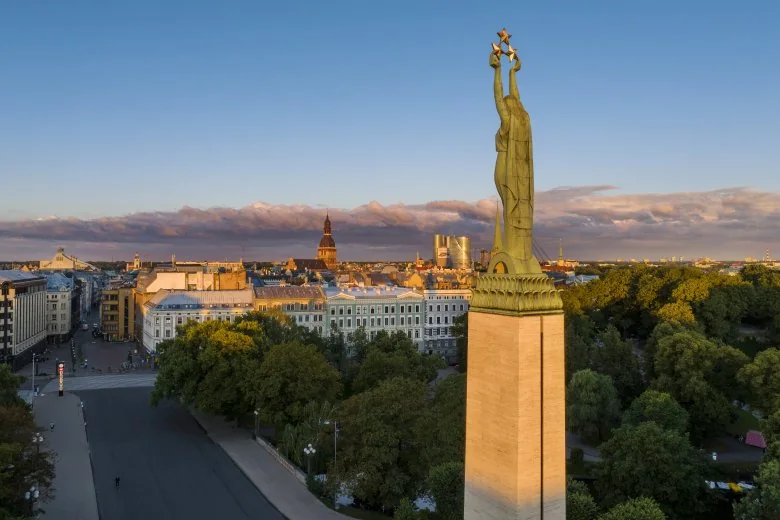 The Freedom Monument has been Riga's central landmark for almost a century. This 42.7 m tall granite and copper work of art is a symbol of the Latvian nation's striving for freedom and independence. The woman on top of the monument is holding up three golden stars, which represent Latvia's historical regions of Kurzeme, Vidzeme, and Latgale. The motto "For the Fatherland and Freedom" is inscribed upon the base. It was unveiled on 18 November 1935 and financed entirely from public donations.
The Freedom Monument was erected according to the design by the outstanding Latvian sculptor Kārlis Zāle (1888–1942); he was also artist for the Memorial Ensemble at the Brethren Cemetery. Zāle's idea was implemented by architect Ernests Štālbergs (1883–1958); the construction lasted for four years.
The Freedom Monument is an architectural representation of the idea of freedom — the large-scale sculptures, arranged on several levels, depict significant events and personalities in the Latvian history.
Fifty six sculptures are arranged in thirteen groups on four levels. The base level of the monument symbolises the nation's work ethic, spiritual strength, and striving for independency. The front of the monument features two travertine reliefs "Latvian Riflemen" and "Latvian People: the Singers"; the other groups depict the Latvian basic values — "Work", "Guards of the Fatherland", "Mother — Family Guard", and "Scholars". On the sides, the travertine panels bear reference to the Russian Revolution of 1905 and Latvian War of Independence. The middle block symbolises the nation's ideals and striving for freedom — "Latvia" is ready to defend the Motherland, "Chain Breakers" try to break free from their chains, "Lāčplēsis" (an epic Latvian folk hero) encourages to fight against evil powers, while "Vaidelotis" (a Baltic pagan priest) symbolises spiritual strength.
The top of the marble obelisk is crowned by a woman hewed in copper. She is holding up three golden stars, which represent the unity of Latvia's historical regions.
During the Soviet occupation, any gathering at the Freedom Monument was strictly forbidden. But with the Reawakening, people gathered here to honour the establishment of the Republic of Latvia, War of Independence, occupation and repression. After Latvia's independence was restored in 1991, the honour guard was again deployed at the foot of the monument.