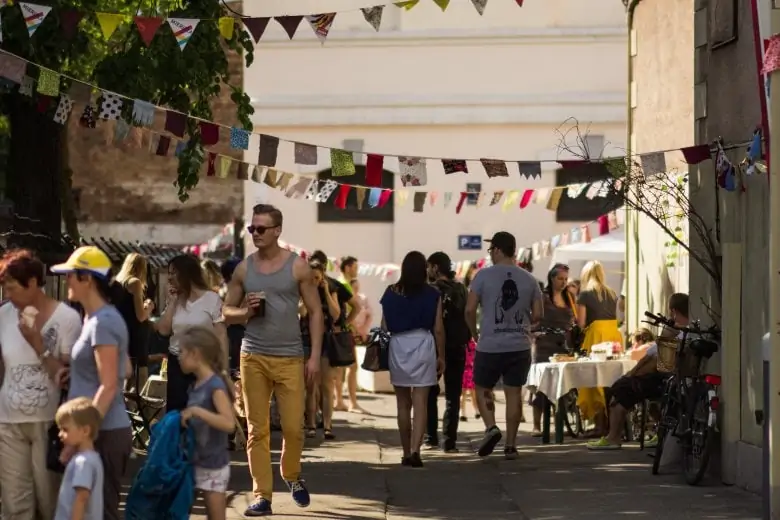 Every city has neighborhoods that become neglected and forgotten as the years go by. No tourists flock there, and locals pass through without paying any attention. Such neighborhoods - in dire need of revitalization - have the potential of becoming a project for young, enterprising modern thinkers to establish something stylish and hip from practically point zero. This is the tale of Riga's Miera iela/street.
Just a 20-minute walk from Old Town, and 10 minutes by tram, away from the hustle bustle of the inner city and its congested streets - it's the so-called Miera ielas Republic - the arts quarter that evolved quite naturally.
In this creative, open and lively environment various cafes, bars, shops and other creative establishments have found a home. Taka, with its informal atmosphere, offers wide selection of Latvian beer, the laid-back cafe Mierā will entice all with its home-made cakes, while Dad café is not just a café, but also serves as an art and music gallery. If you arrive by bicycle and somehow manage to get a flat tire, then the Riga Veloserviss bicycle repair shop will certainly be able to get you back on the road. You can purchase something pretty for your home at the interior design shop 20.Gadsimts, glasses and other unique glassware made from recycled glass at Buteljons, and there is also the vintage shop Ze Store, Stiklu Darbnīca and the Māla Studija shop as well. Persons needing to rent elegant evening wear or other clothing can do so at Uzvalks and Kleita, while Latvian design products can be found at M50. Furthermore, the flower shop Ar Putniem will certainly make that special day even more special.
These are just some of the places worth visiting. At the same time, various arts and crafts fairs are organized on a regular basis on Miera iela, and since 2012 the Miera iela Summer Festival (Vasaras Festivāls) is organized in May, which promotes the area's social environment, as it gathers together not only the surrounding businesses and visitors, but also local residents and home owners.
Skyscanner has even named Miera iela the most ''hipstery'' neighborhood in the world.

As a dessert to those who wish to party the night away is the nearby A.Briāna iela/street quarter. Here you can find various bars and clubs like Piens, One One and Nemiers, as well as the local micro-brewery Labietis, with its many beers on tap.